Winter is truly an underrated season when it comes to weddings. Summer and Fall have certainly become the most popular wedding seasons, however, what is more beautiful than getting to say "I Do" in a veritable winter wonderland? Freshly fallen snow, guests filled with good cheer, and an excuse to trade Fair Isle sweaters in for cocktail attire – every element of this season comes together to provide you with the perfect setting for an unforgettable wedding day.
If you are a bold bride who is unafraid of a few flurries, winter weddings can also be some of the most beautiful and elegant. Try out one of these stunning winter wedding color palettes for your upcoming wedding.
Winter Wedding Colors #1: Hunter Green, Black, & Silver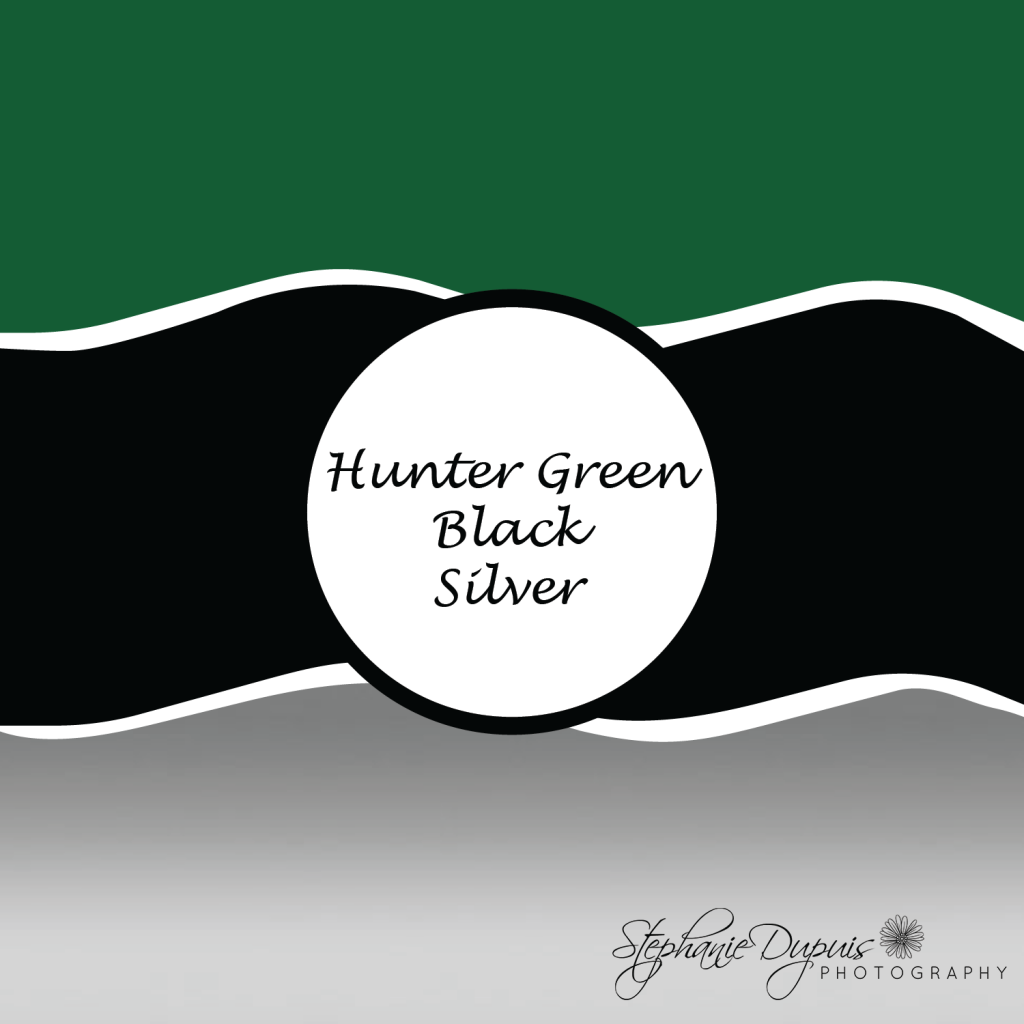 Why it Works –
This winter color palette is perfect for glam brides who want to evoke the elegance of the season without sticking to traditional holiday colors. Hunter Green is rising in popularity as a wedding color, and it's sure to reach its pinnacle of perfection by the time 2021 draws to a close. Black is not often used in wedding décor, but when done correctly, it always looks chic. Using Silver (instead of Gold) is an unexpected twist that successfully brightens up the places where the other two colors could overwhelm the room.
Where & How – Use Hunter Green in sweeping statements, like your bridesmaids' dresses, tablecloths, and decor. Black should be used sparingly, but in enough places so that it doesn't look accidental or out of place – long black tapered candles and graphic, monochromatic menus are a great start. Silver should be present as often as possible to provide a balance. Lustrous candlesticks, glittering ribbons on bouquets, and silver-toned jewelry should definitely make an appearance.
Accent it With – Winter is a perfect time to reminisce on days of old. Authentic antique elements within your decor provide a nostalgic and slightly magical feeling. A timeworn typewriter can replace your guest book, a large birdcage on your gift table can catch your wedding cards, and vintage photos of relative's wedding days provide both charm and visual interest.
Winter Wedding Colors #2: Camel, Olive Green, & Cream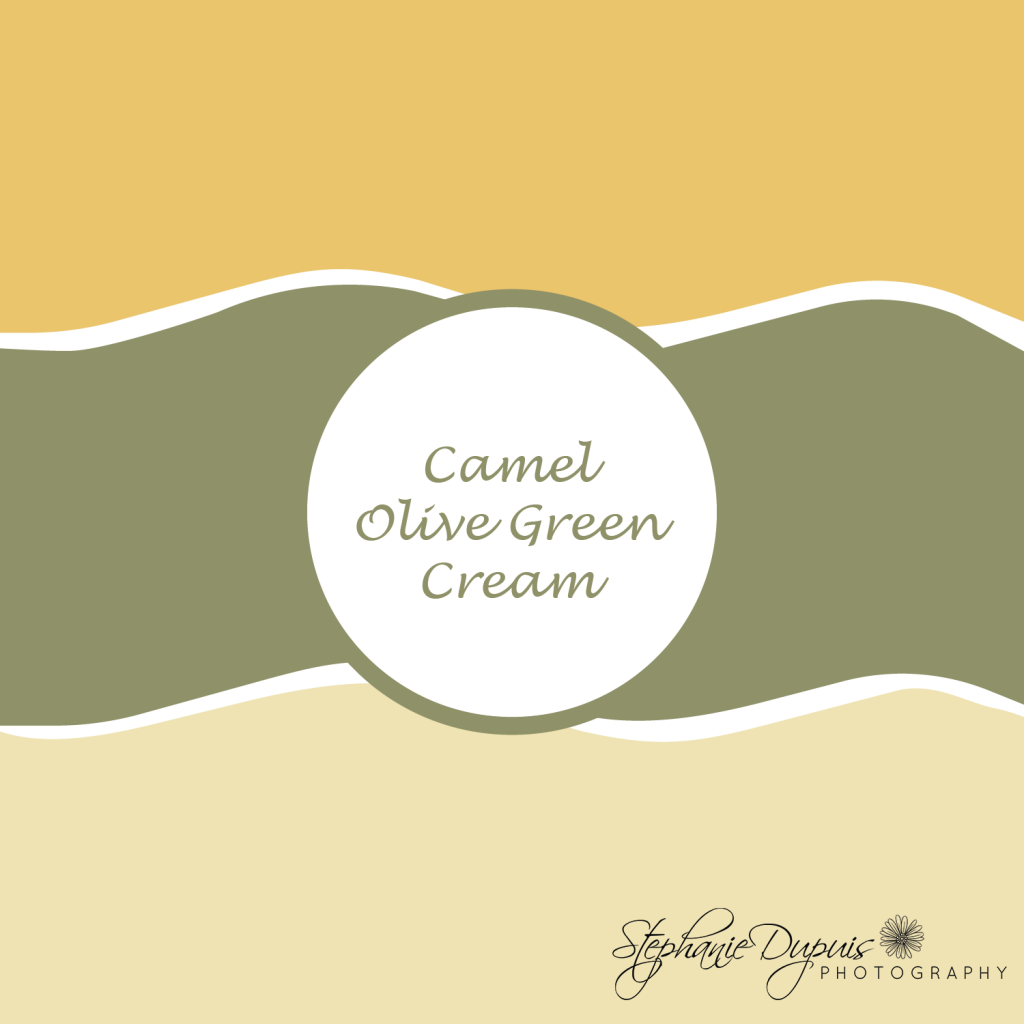 Why it Works –
There is a fresh sense of refinement to this subtle but impactful wedding palette. Camel is a highly versatile neutral that is pleasing to the eye, ensuring you can never go overboard when it comes to this color. Olive Green is an elevated color with holiday appeal, while Cream accents soften the entire look and steeps everything in romance. Pops of a deep, ruby red are allowed here but use them very sparingly to avoid a cliché "red and green" holiday wedding palette.
Where & How – Get creative in your use of Camel, and don't feel like tones have to exactly match. Drape a light brown fur shawl over your shoulders for incredible outdoor pictures, dress your groomsmen in khaki pants, and use natural wood accents throughout your décor to subtly fill your wedding day with this color. Sprigs of pine here and there add another natural element to this spectacular winter wedding look, while greenery with cream colored flowers in your bouquet effortlessly ties it all together.
Accent it With – For some reason, the holiday season always feels frozen in time. Harken back to the days of old by incorporating vintage holiday décor throughout your big day. Ornaments and holiday cards from the 1940s and 1950s give your wedding a charming retro vibe that everyone will appreciate.
Winter Wedding Colors #3: Ice Blue, Burgundy & Taupe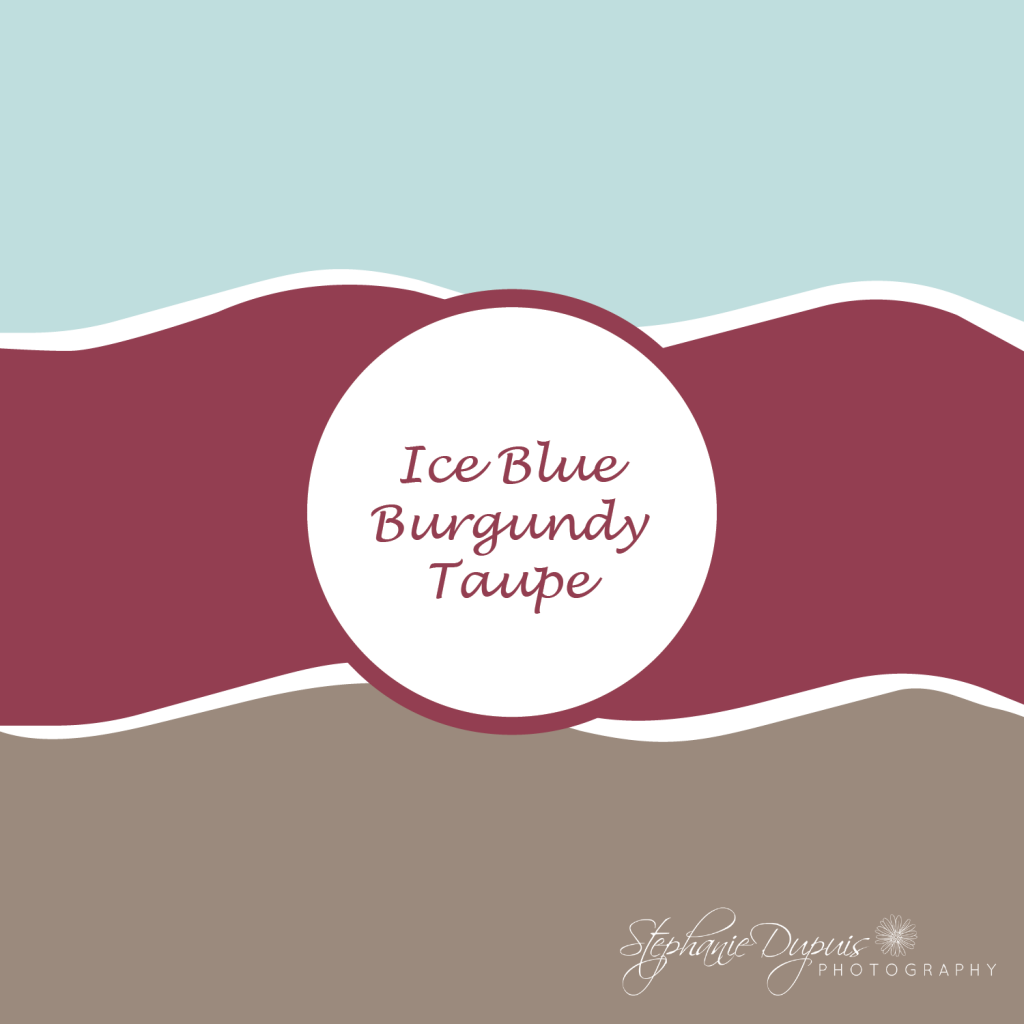 Why it Works –
This winter wedding color palette channels all of the colors present within a delicate snow storm. Taupe (or a very light grey) adds depth and dimension in a way that a traditional White or Ivory never could, while Ice Blue has a distinctly wintery look that is stunning and striking without adding too much actual "color" to your wedding day. Pops of Burgundy provide visual interest and ensure your wedding doesn't look too blindingly bright.
Where & How – Play with colors that have cool undertones (like pewter and matte silver) to expertly pull this look off. Bridal gowns with ivory lace and a slightly grey lining are rising to popularity and perfectly align with this look. So too do shimmering metallic bridesmaids dresses and silver flatware. Ice Blue bouquet ribbons or glassware add accents in all the right places, while Burgundy should spring to life in small places, like in your groomsmen's bow-ties or in your bouquet.
Accent it With – With a shimmering palette that has such a serious sense of style, lighten the mood by adding cozy knit textures throughout. A chunky ivory cardigan over your wedding dress has a lighthearted feel that will contrast beautifully with any opulent bridal look – not to mention, it will keep you nice and warm during outdoor photos. Provide your guests with cozy woolen mittens or drape knit blankets over your seating for a warm and accessible wedding day look that is still elegant and right on trend.
---
About Stephanie Dupuis Photography
Hi! Stephanie Dupuis Photography is a two person team that specializes in photographing families and children. In addition, Stephanie and Bill also love maternity shoots, newborn portraits and baby photos as well as high school seniors. Stephanie Dupuis Photography works in Lancaster, Littleton, Whitefield, Dalton, Groveton, Berlin, Gorham and surrounding towns. Please inquire for travel rates to other areas.