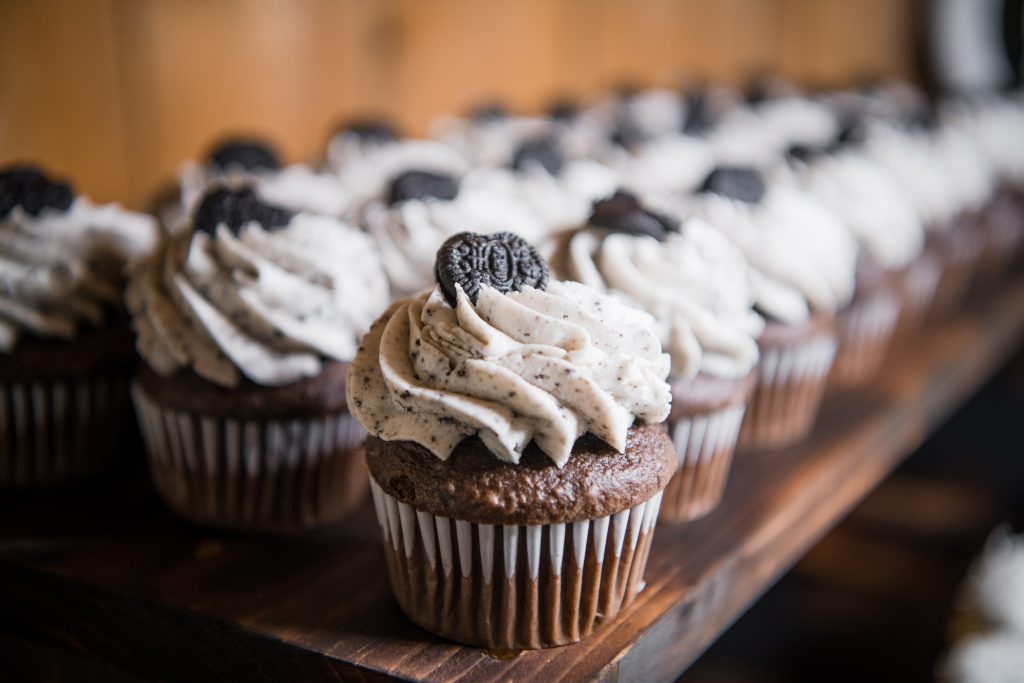 Wedding cakes and wedding cupcakes are practically the pièce de résistance at any reception. Having an incredibly elegant dessert is a fun – and delicious – way to show off your signature sense of style. Whether you opt for a show-stopping cake, delicate cupcakes, or both (!), here are some of the top wedding cake and cupcake trends for 2021.
Wedding Cakes & Cupcakes Combine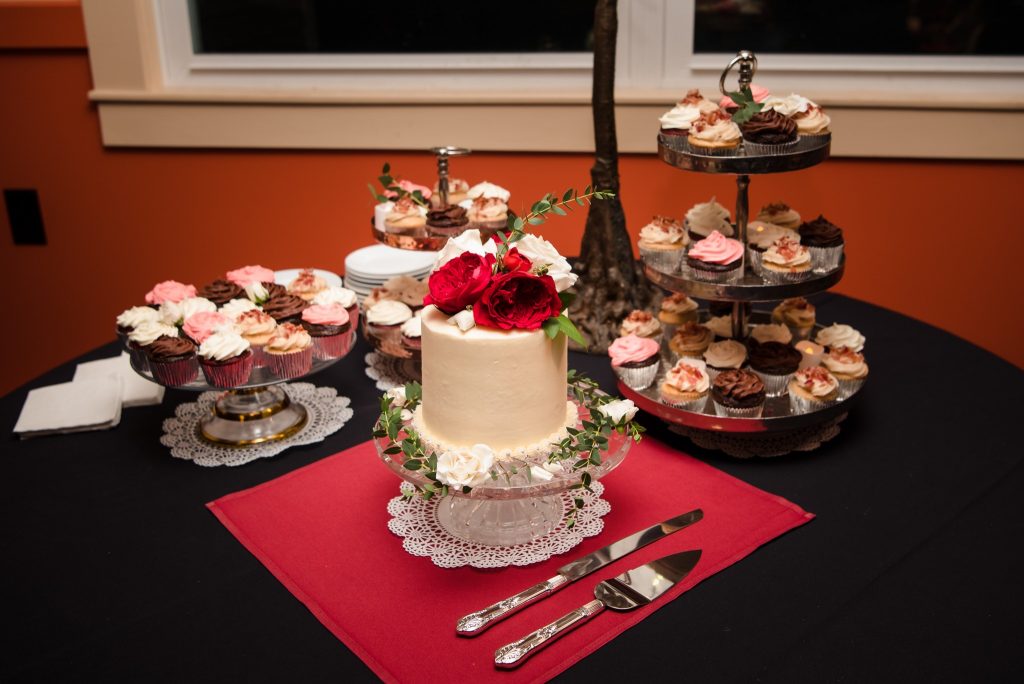 In the past, brides and grooms have had to decide whether they wanted to opt for a traditional wedding cake with lots of layers or trendy, bite-size wedding cupcakes. Now, however, couples no longer have to choose. The newest trend in wedding day dessert is pairing a small wedding cake with a variety of coordinating cupcakes. Choosing both sweet treats allows the bride and groom to have a small wedding cake for traditional cake-cutting photos, but also gives guests the dainty delight that comes along with individual cupcakes. When arraigned in a tiered display, this multi-layered cupcake wedding cake flawlessly combines time-honored tradition with current trends. Consider this the best of both worlds.
Festive Florals
Florals are a staple at any wedding. Adorning your wedding cake in flowers makes a sweeping, romantic statement. For those with traditional taste, have your baker add fresh flowers and greenery onto the exterior design of your cake. For something a little more modern, watercolor wedding cakes are set to become the next big wedding trend. Ultra-talented cake decorators are "painting" whimsical floral motifs directly onto fondant. The result is a gorgeous, artistic look that is soft, stylish, and incredibly unique.
It's easy to find cupcakes that follow along with this floral theme. Seasoned bakers will have no problem piping buttercream on in a way that creates a realistic rose pattern on top of a cupcake. For something a bit more intricate, play around with color and have your decorator adorn the top of your mini cakes with multiple floral designs to mimic the look of your bridal bouquet.
Beautifully Bare
Naked cakes are some of the best wedding cakes around. With a modern design that visibly displays a cake's many layers, these minimalistic yet statement-making cakes have a rustic, understated elegance that many couples are instinctively drawn to. Fresh flowers or drip frosting is a beautiful way to dress up these cakes, but gorgeous fresh fruits give these trendy desserts an even more modern twist. The rich colors and shapes of strawberries, blueberries, and blackberries highlight the natural, organic look of these wedding cakes. For cupcakes that provide the perfect complement to a naked cake, opt for one that also features fruit. Have your baker dress up a "natural" colored cupcake with a dollop of icing to adhere a variety of fresh fruits atop the cupcake. Add a dusting of powdered sugar and you have a "naked cupcake" that is dainty and delicious.
Whimsical and Rustic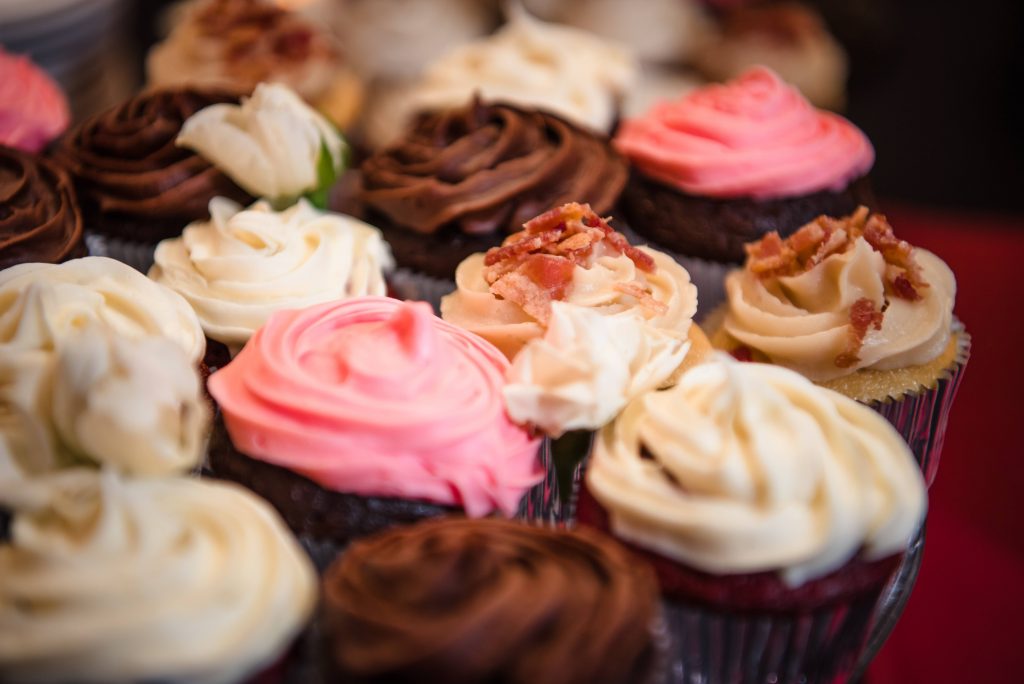 Rustic weddings are some of the most beautiful. For a cake that truly reflects the free-spirited style of these bohemian weddings, opt for a cake that embraces the textures found in nature. Wedding cakes with a birchbark-inspired exterior have an understated charm that is sure to make people take a second look. Instead of a traditional cake topper, have your cake decorator "carve" your and your fiancé's initials into the side of the cake for a vintage wedding cake that is incredibly romantic. For cupcakes with a similar rustic twist, think outside of the box – or in this case, the cupcake liner. Miniature layered cakes in little jars are a fun departure from your traditional wedding cupcake. These handheld desserts are simply adorable and have a homemade look that will mirror the relaxed elegance of your rustic wedding. Add mini flags with a sweet sentiment and you have a designer dessert everyone will adore. We have compiled some awesome wedding cupcake suggestions by season. Please click here to check them out!
Pies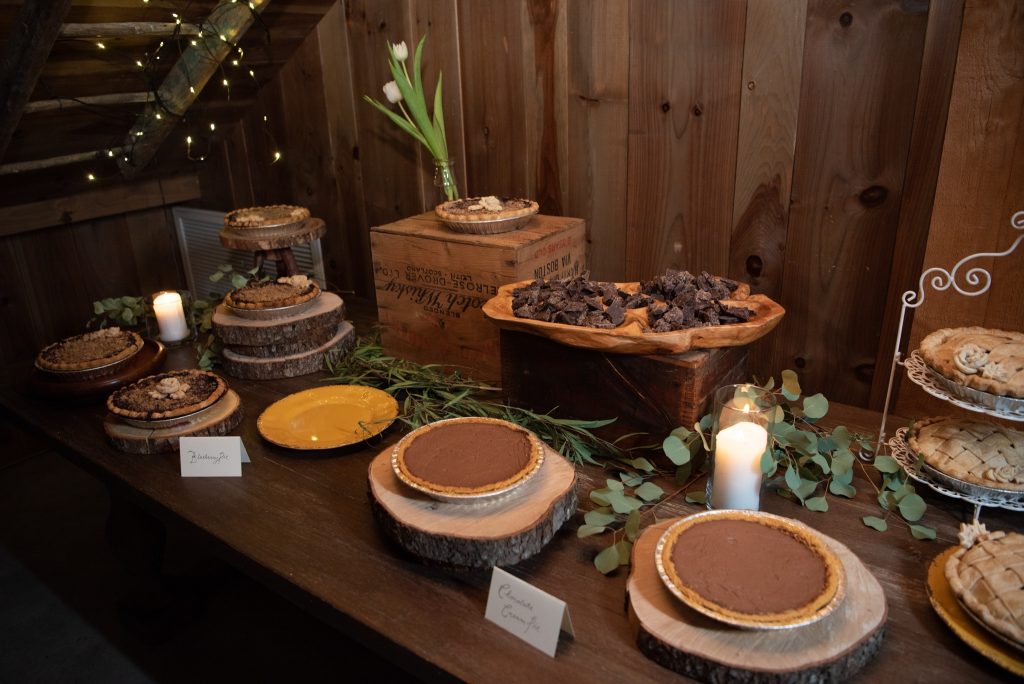 Whoever said that a wedding had to have a wedding cake? For a more unique and (dare we say) delicious dessert table, try serving pie at your wedding instead. These fruit-filled confections aren't just for backyard BBQs and picnics in the park. Pies are beyond perfect for barn weddings or a garden party. Dressed up on a well-decorated display, wedding pies can hold their own next to the fanciest of desserts at a black-tie affair. Consider maintaining tradition by incorporating passed-down family recipes into your big day. Let guests reminisce as they indulge in their favorite pie flavors.
---
About Stephanie Dupuis Photography
Hi! Stephanie Dupuis Photography is a two person team that specializes in photographing families and children. In addition, Stephanie and Bill also love maternity shoots, newborn portraits and baby photos as well as high school seniors. Stephanie Dupuis Photography works in Lancaster, Littleton, Whitefield, Dalton, Groveton, Berlin, Gorham and surrounding towns. Please inquire for travel rates to other areas.