Summer is one of the most popular seasons for weddings, and it's easy to see why. Summer means warm afternoons, captivating sunsets, and a sky full of twinkling stars – all of which combine to make a beautiful backdrop for any classically romantic wedding day.
If you want to create a Summer 2021 wedding that is right on-trend and slightly cutting edge, copy these unique summer wedding colors for a fancy midsummer affair.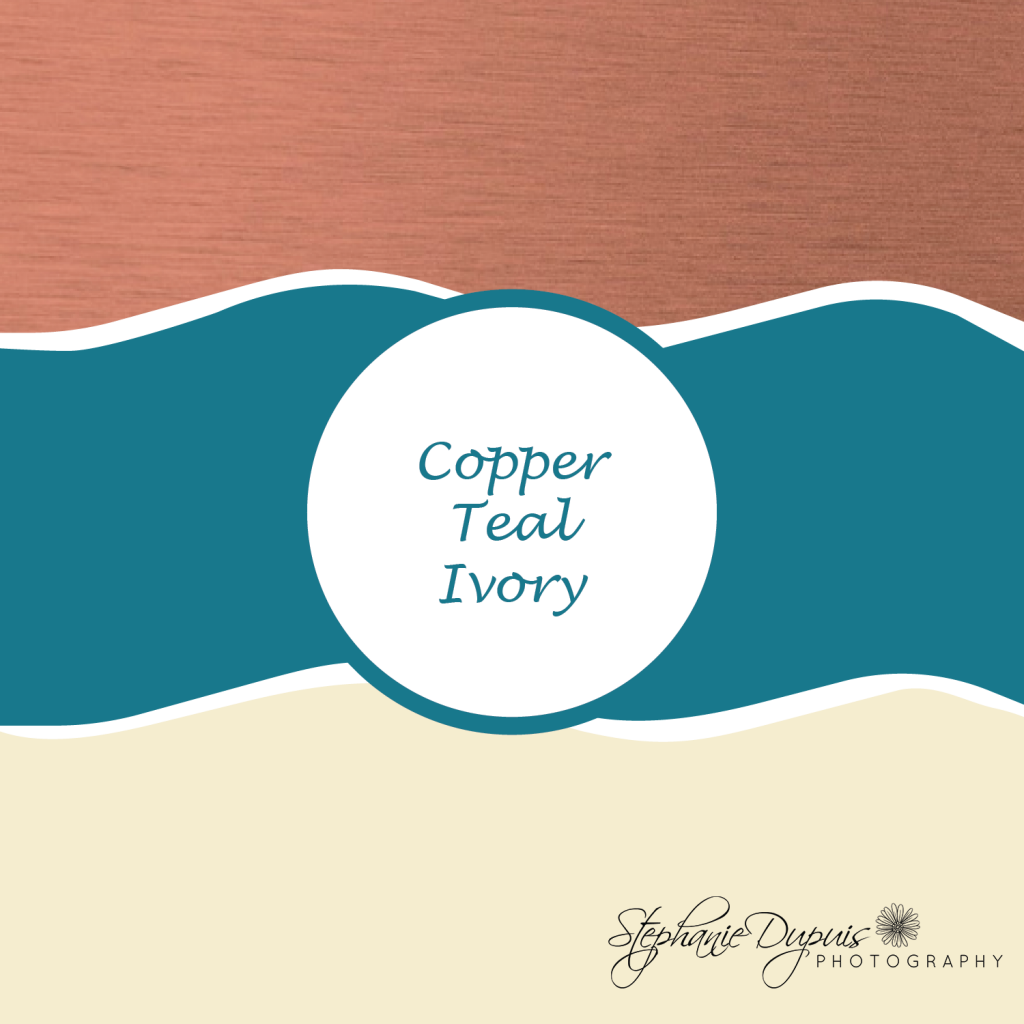 Summer Wedding Colors #1: Copper, Teal, & Ivory
Why It Works –
These tones are rich and regal without being too bright, heavy, or overpowering for a Summer wedding. The subtle gleam from the touches of Copper will give your wedding day a soft glow. Teal provides a striking contrast to this metallic tone while also providing an unexpected departure from Dusty Blue, a color that will become overdone by the time Summer 2021 is over. Ivory balances these two luxurious shades beautifully and allows this entire Summer wedding palette to effortlessly strike a balance between looking opulent and romantic.
Make this Summer 2021 wedding color palette come to life by incorporating a multitude of textures. Teal or Blue-Green velvet or brocade is ideal, whether you use it in big sweeping statements like in table runners or incorporate into tiny touches, like a velvet ring box. Mismatched copper flatware will bring your tablescapes to life, and creates an impact when also incorporated in soft, delicate places like your bouquet ribbons. Your bridesmaids will also look beautiful in mismatched metallic gowns that feature varying textures and designs

Accent With – Illuminate this Summer color palette by taking your lighting to the next level. Vintage Edison bulbs are perfectly on trend and create a soft, coppery glow, bathing your entire reception in flattering light. It will bring out the rich, deep tones of the teal when the sun goes down, creating an elegant and romantic ambiance that is as wedding-worthy as it gets.
Summer Wedding Colors #2: Tangerine, Sapphire Blue, & Magenta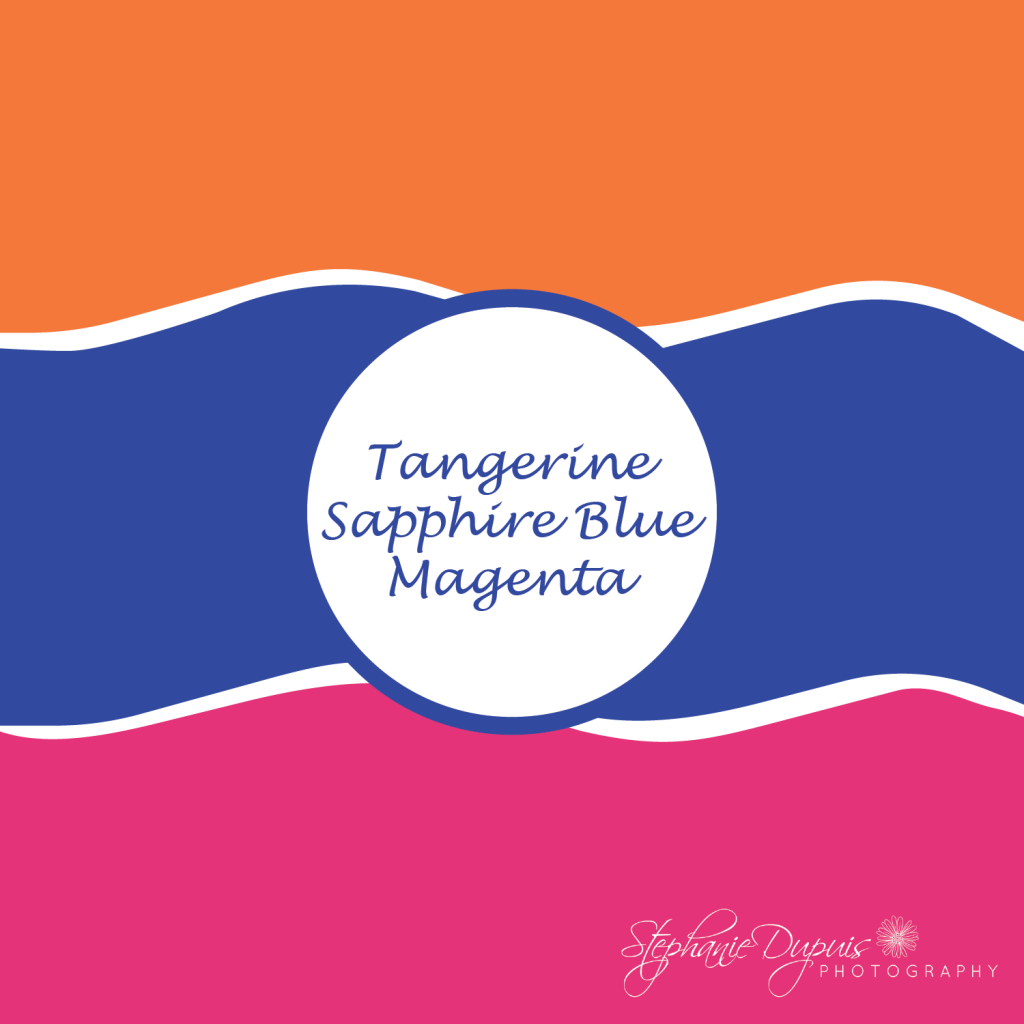 Why It Works –
Weddings in 2021 have been notoriously lacking in color. While the "Greenery and Ivory" trend imparts a timeless look, surprise all of your guests by playing with color – lots of it! Warm, eclectic, and vibrant hues scream summer and are sure to bring a smile to everyone's face. It's the happiest day of your life, so celebrate it in loud, beautiful colors.
Where & How – Choosing on-trend, vibrant shades is the key to creating a perfectly styled wedding. Use warm tones like Tangerine, Magenta, and Bright Pink for exciting floral arrangements, but use an editor's eye to balance out these colors with bright greens and accents of ivory. Use Sapphire Blue sparingly and always pair it with white – patterned china makes for photo-worthy table settings, for example. Allow your bridesmaids to pick their favorite vibrant color or encourage them to wear Lilly Pulitzer-esque prints for a bridal party look that will take everyone by surprise.
Accent With – Whimsical touches like oversized helium balloons give your wedding a stylish yet lighthearted touch. Think of ways to break from convention – allow your flower girls to wave colorful ribbon wands or have your guests blow bubbles as you walk down the aisle. Whatever you do, don't take your event too seriously! These colors look best when accompanied by fun.
Summer Wedding Colors #3: Dusty Blue, Blush, & Bronze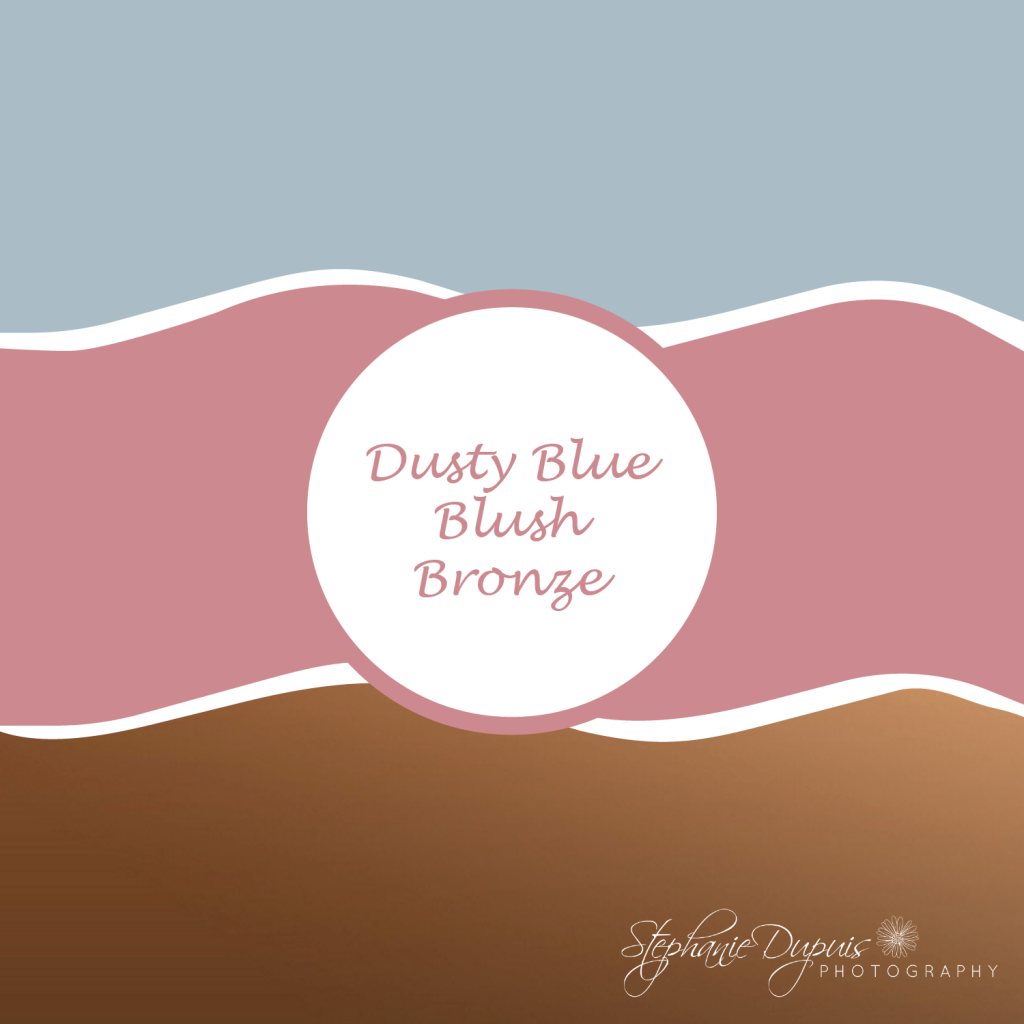 Why It Works –
This color palette is classic and sophisticated, creating a wedding day so beautiful that everyone will be talking about it. All of these dusty, romantic colors combine in beautiful ways. With that said, none of these colors are too loud or too trendy, allowing them to blend into the background so your love story can take center stage.
Where & How – Dusty Blue gives everything an antique feel, so use it as often as possible. Your table settings, invitations, and even bridesmaid's dresses will look gorgeous when adorned with this effortless hue. Blush looks beautiful in your flowers, of course, but light pink patterns on your menus, programs, or signage brings romance to life. Bronze (or Rose Gold, if you prefer) adds texture and style. Find accent pieces like antique candle sticks, flatware, or even jewelry to bring this metallic tone to life.
Accent With – Mismatched glassware works perfectly with this delightfully romantic wedding color palette. Visit an antique store to find colorful goblets, pitchers, or glassware to add texture and dimension. Antique liqueur glasses are perfect for cocktail hour, while mismatched floral tea cups can create adorable centerpieces.
---
About Stephanie Dupuis Photography
Hi! Stephanie Dupuis Photography is a two person team that specializes in photographing families and children. In addition, Stephanie and Bill also love maternity shoots, newborn portraits and baby photos as well as high school seniors. Stephanie Dupuis Photography works in Lancaster, Littleton, Whitefield, Dalton, Groveton, Berlin, Gorham and surrounding towns. Please inquire for travel rates to other areas.