These spring wedding color ideas should provide you plenty of inspiration to create the perfect Spring Color Palette that works for your wedding. Spring weddings have a perennially breezy feel, making them incredibly beautiful and romantic on their own. For a Spring 2021 Wedding that is big on style, take a look at these fresh color palettes that perfectly compliment warmer temperatures and budding flowers.
Spring Wedding Colors #1: Dusty Blue, Peach, & Taupe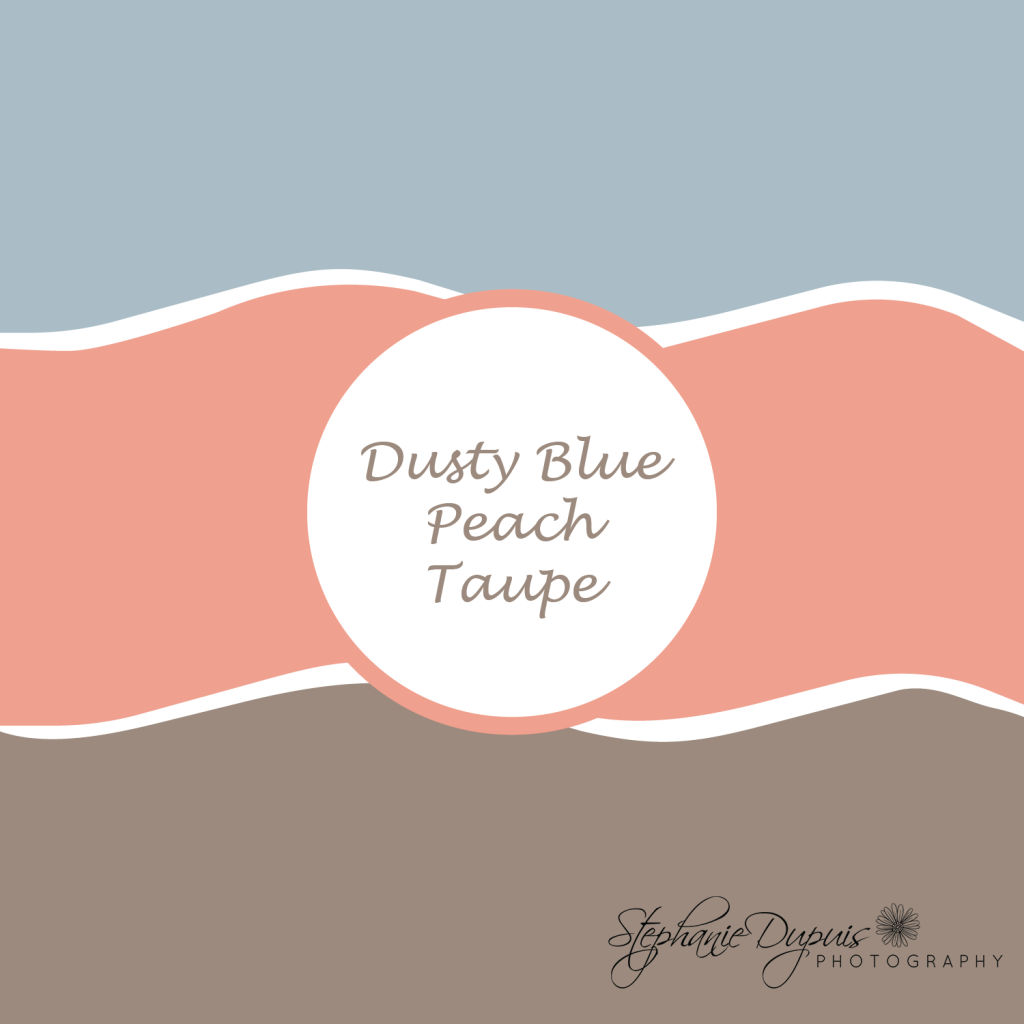 Why It Works –
This on-trend wedding color palette is incredibly popular and for good reason. Shades of Dusty Blue in differing textures impart a rich, timeless, and sophisticated look to any springtime soiree, while Peach is a feminine and fun departure from the Blush. Thoughtful hints of Taupe, Champagne, Mocha, and other light neutrals tie the two colors together for a fresh color palette that is classy but lighthearted, just like any Spring wedding should be.
Where & How – Allow Dusty Blue to steal the spotlight from the other colors but do so with care. Adorn your bridesmaids in blue but keep their bouquets light to create a beautiful contrast. Bring in pops of Peach in various places, such as table runners, napkins, pocket squares, or centerpieces, and use neutral colors in as many places as possible to successfully bring this look to life.
Accent With – This color combination looks beautiful with natural elements, which is perfectly on trend for Spring 2021 weddings. Use raw quartz accents in your centerpieces or print your menus on paper with a marbled pattern to ensure this color palette doesn't look too basic.
This wedding color palette works perfectly for outdoor Spring weddings. Allow the bright, blue sky to compliment your colors for wedding pictures that truly pop.
Spring Wedding Colors #2: Lavender, Sage, & Ivory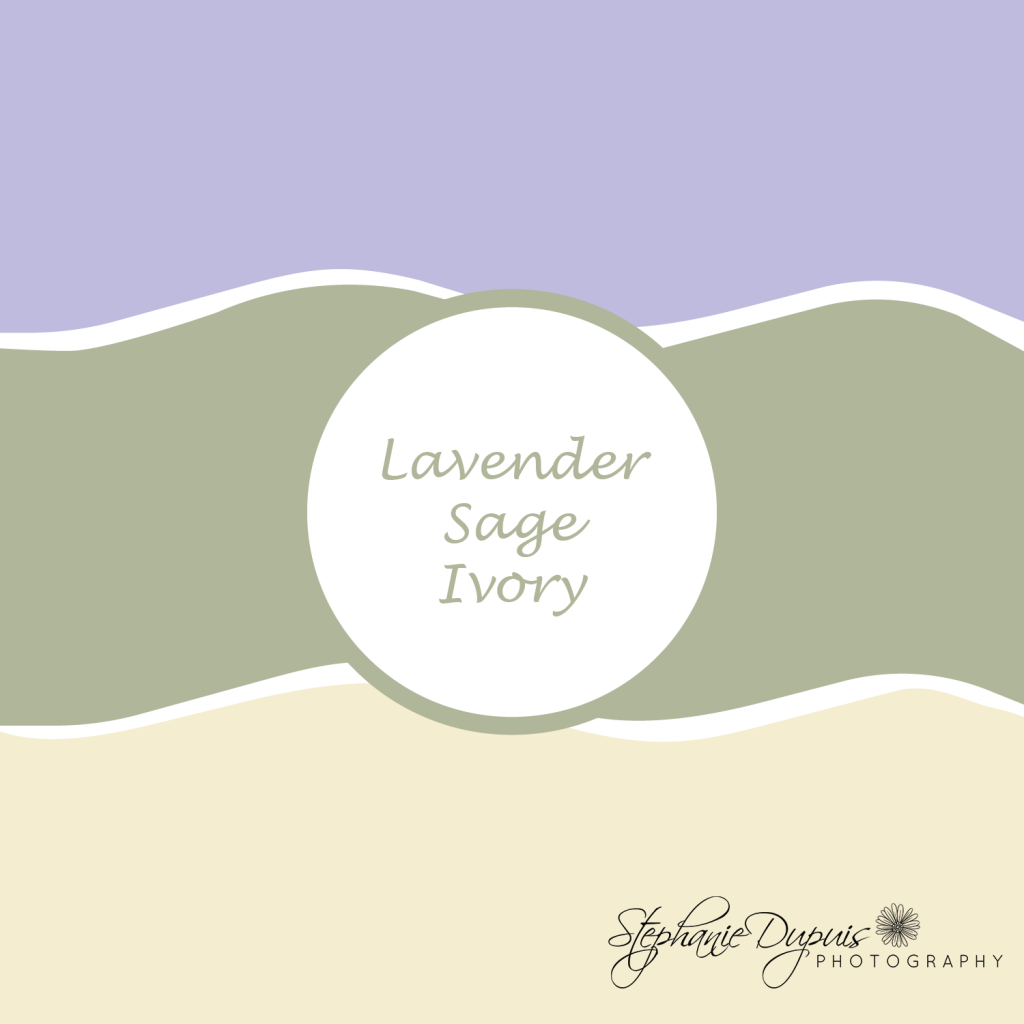 Why It Works –
These colors combine beautifully to create the perfect backdrop for a fresh and elevated Spring wedding. Lavender is a soft yet stylish color that comes to life when offset by a dusty green Sage. Incorporating Ivory is a bold move that will allow everything to look even more spectacular.
Where & How – Lavender is a color that looks great on bridesmaids but don't be afraid to incorporate various shades and patterns of purple into their dresses for a purposely mismatched look. Greenery with Ivory floral accents on your decor and in your bouquets will ensure that your wedding is right on-trend. For the guys, gray suits will blend perfectly with this Spring palette.
Accent With – Barn-board has a rough texture that expertly contrasts with this delicate color scheme. Use pieces of reclaimed wood as a base for your centerpieces or various signage around your reception space. The more weathered or whitewashed the wood, the better. Perfect For – Spring barn weddings come to life when offset by this incredible color palette. The raw textures and antique charm of barn venues compliments these classic colors beautifully.
Spring Wedding Colors #3: Blush, Dusty Rose, & Gold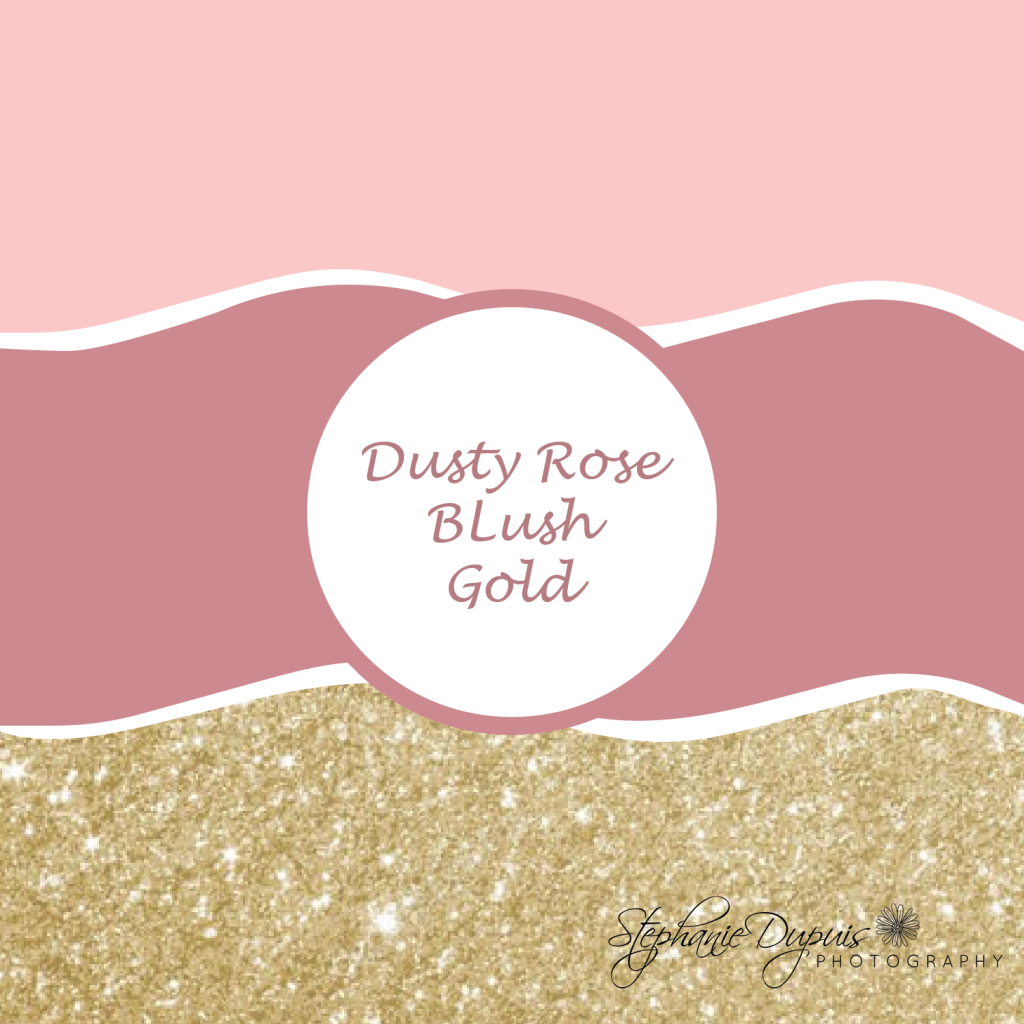 Why It Works –
Differing shades of Blush have a lux look that is always wedding ready. For a color palette that is made for Spring weddings, focus on lighter shades of pink and incorporate Dusty Rose sparingly for maximum effect. The stunning Gold metallic sheen livens up these various shades of blush for a look that is thoughtful and surprisingly unexpected.
Where & How – Dressing your bridesmaids in blush is an easy choice, but don't be afraid to allow your Maid of Honor to wear Dusty Rose for an elegant way to make her stand out. White and Blush florals will bring this look to life within your decor, and gold mercury glass accents allow everything to have a polished appearance that is also relaxed and refined. Navy or Grey suits both work with this palette and contrast beautifully against these ultra-feminine hues.
Accent With – Although it may seem strange, tiny touches of Black or Charcoal really bring this Spring color palette to life. Opt for graphic, geometric patterns on the back of your menus or tie your napkins together with black striped ribbon. It may seem counter-intuitive, but when done correctly this elevates the look of your wedding from ordinary to extraordinary.
Perfect For – Sophisticated Spring weddings that big on style. We could see this color palette dressing up a historic venue for a wedding that is classy, modern, and romantic all at once.
---
About Stephanie Dupuis Photography
Hi! Stephanie Dupuis Photography is a two person team that specializes in photographing families and children. In addition, Stephanie and Bill also love maternity shoots, newborn portraits and baby photos as well as high school seniors. Stephanie Dupuis Photography works in Lancaster, Littleton, Whitefield, Dalton, Groveton, Berlin, Gorham and surrounding towns. Please inquire for travel rates to other areas.