Getting gorgeous photos taken of your wedding, your newborn, your senior, or your family is easy – after all, you have some great subjects to work with! The tricky part often comes after you get your edited photos back from your photographer. You suddenly have an entire digital album filled with beautiful images to display…but you're left wondering "what's next?"
We're firm believers that physical prints are the absolute best way to appreciate the stunning beauty of your professionally-captured images. Now, you just need to decide how to display them. That's why we've compiled a list of breathtaking ways to display your photos in your home so that you can create a warm, loving atmosphere decorated with images of your favorite people. Of course, we are happy to help you create this incredible displays – just ask!
Gallery Wall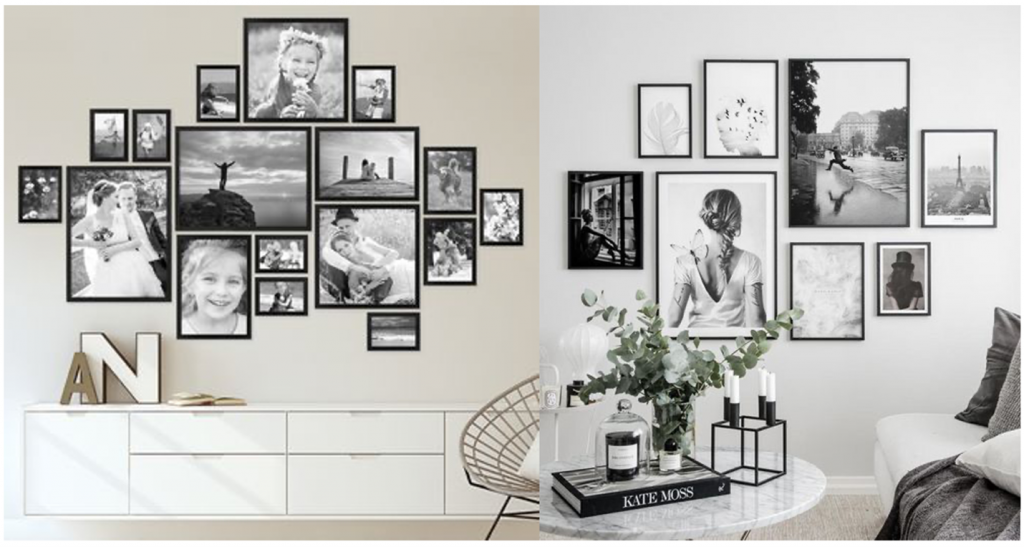 Photo Credits: photolini.de / homedeco.nl
Gallery Walls have been a popular way to display photos for a long time – and it's safe to say this classic option isn't going out of style any time soon. Perfect for large walls that would otherwise remain empty, gallery walls let you show off all of your favorite pictures in an artistically inspired way. The best part is that you can keep adding photos as time goes on. From wedding photos to newborn photos to photos of your growing family – adding to your gallery wall allows you to put the beautiful story of your life on display for all to see.
Photo Ledge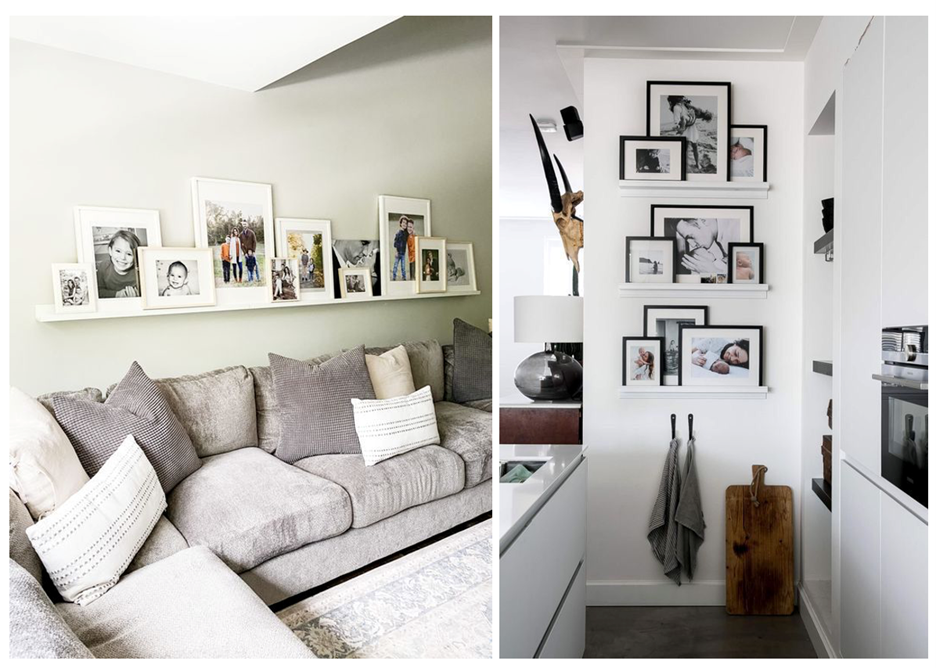 Photo Credits: sadecor.co.za / crateandcottage.com
Photo ledges are a chic, striking way to put multiple pictures on display in your home. To create one of these gorgeous galleries, start by selecting ledges in a material that matches your existing home décor. Then, find a variety of frames in multiple shapes and sizes – just be sure to keep the color of the frames consistent for a more cohesive look. One long ledge will add visual impact to any large, empty wall in your home. If you have a slightly smaller wall to work with, consider placing two or three smaller ledges to cover it from floor to ceiling.
Staircase Showcase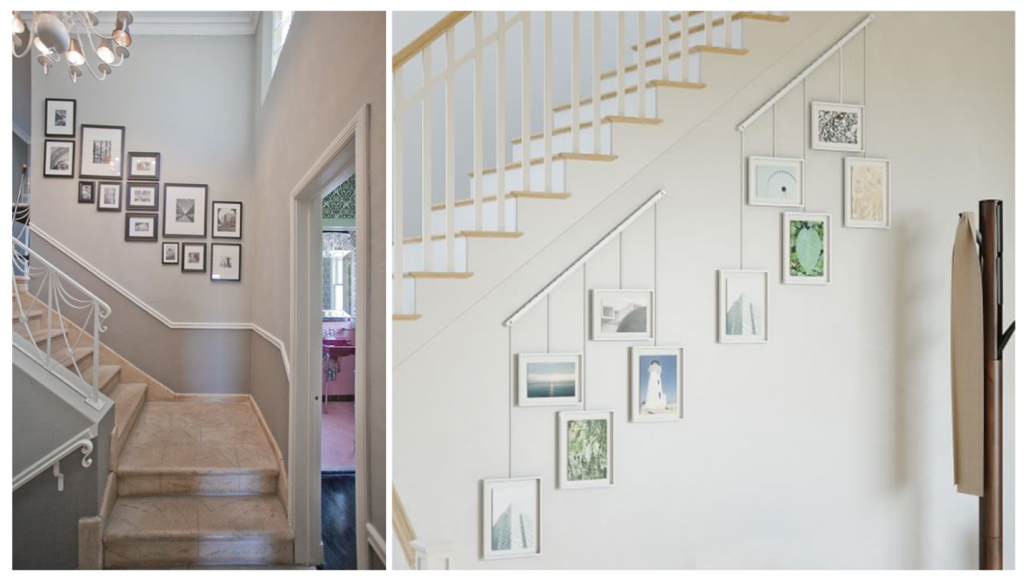 Photo Credits: apartmenttherapy.com / potterybarn.com
Staircases are a dramatic architectural element in any home – make this area even more impressive by adding your favorite framed photos. A series of images in various sizes on the wall of your staircase is a classic way to add visual interest to this often under-utilized area. Or, mirror the angle of your staircase by putting hanging frames in a dramatic diagonal display. Either way, your photos will make your staircase even more spectacular.
Play With Sizes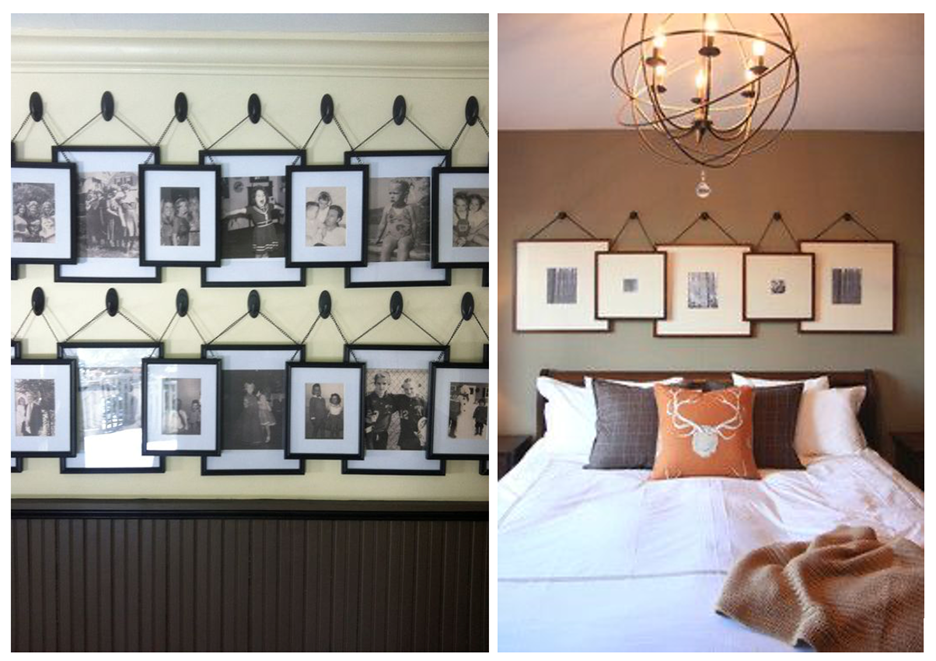 Photo Credits: Pinterest / 320sycamoreblog.com
A new trend for 2020 is pairing both small and large photos together in a repetitive linear display. The striking look of the overlapping frames is chic, contemporary, and perfectly aligns with this decade's bold design trends. This type of display is ideal for above the headboard in a master bedroom or in a hallway that could use a modern touch.
Symmetrically Styled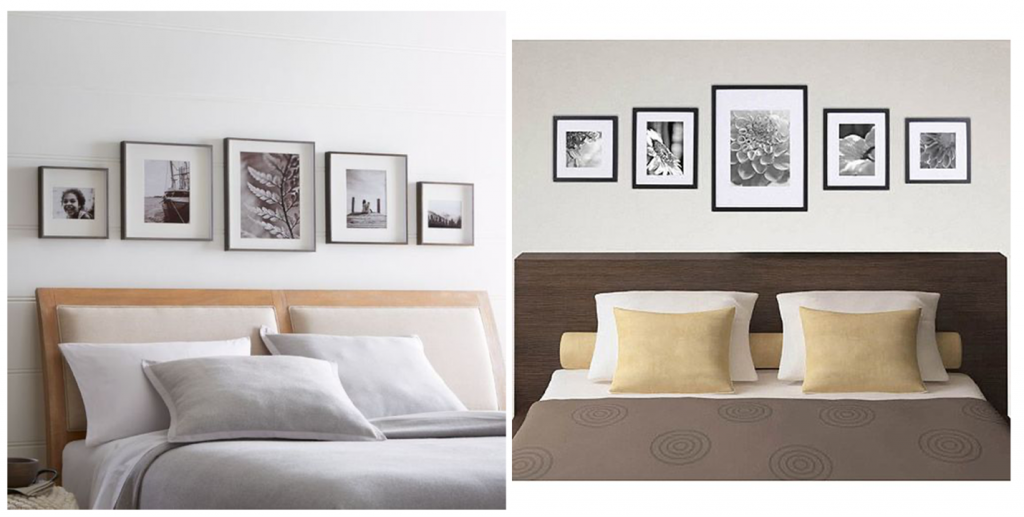 Photo Credits: crateandbarrel.com / Walmart.com
For a photo display with subtle visual impact, consider creating a smaller symmetrical arrangement. Start with a large photo in the center and place gradually smaller frames on each side. The tapered look is definitely eye-catching, but its more subtle appearance makes it perfect for a variety of different areas in your home.
Modern Noticeboard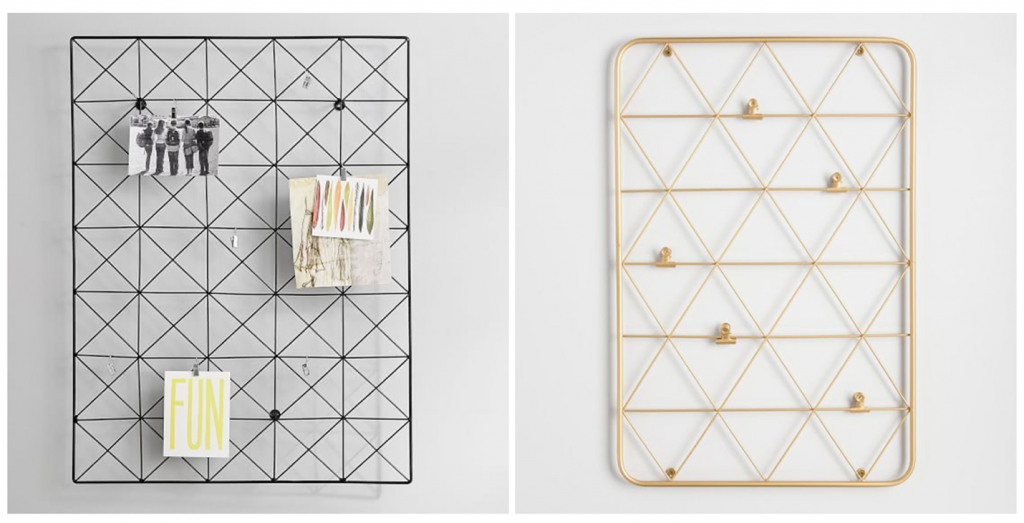 Photo Credits: pbteen.com / worldmarket.com
If you want to display your photos in an office but don't have room on your desk for multiple frames, a modern noticeboard is the way to go. An updated take on a classic corkboard, they allow you to add photos and other items in a fresh way. Wire framed boards are beautifully minimalistic and allow you to add your personal touch to even the most basic office setting.
Hanging Display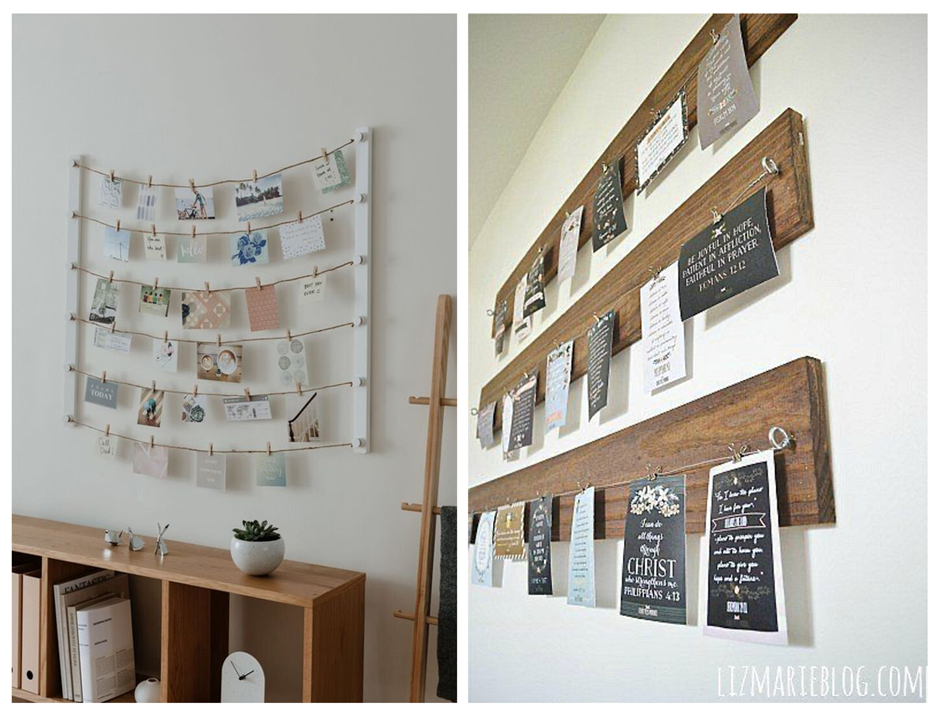 Photo Credits: pacsun.com / lizmarieblog.com
Hanging displays are a cute, casual way to put your favorite photos out for all to see. Usually, these displays include some kind of "clothespin" style clips so you can hang them in any order or manner you wish. If you are frequently getting photos taken of your family – or want to swap them out often for more seasonally appropriate images – this will be a charming addition to your interior décor.
Antique Finish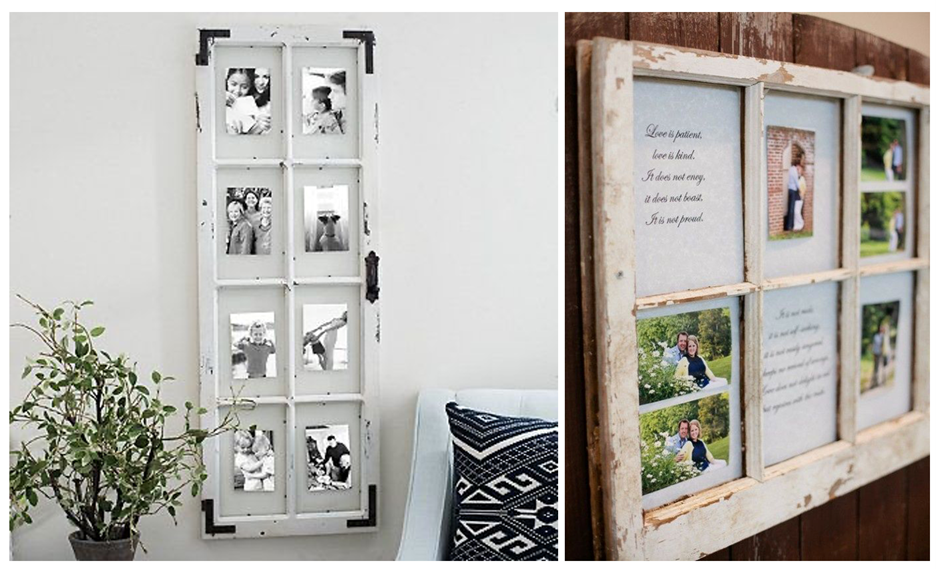 Photo Credits: kirklands.com / bungalow47.com
If your home already has a rustic chic design scheme, creating a photo display out of antique materials is a wonderful idea. Although it takes a bit of creativity, there are plenty of different ways to DIY refurbished materials into modern picture frames. Scour your local thrift store or antique shop for old doors, multi-pane windows, or even large pieces of barn board. Then, visit the craft shop to find hardware that will turn these pieces into a work of art. Printing your pictures in a sepia or black and white further enhances the old-fashioned aesthetic.
Looking for more inspiration? Check out our Instagram Page
---
About Stephanie Dupuis Photography
Hi! We're Stephanie & Bill, New England photographers based in Northern NH. As one of New Hampshire's premier photographers we offer clients modern, beautifully styled portrait sessions.
We will work with you to help you find the perfect location for your family photos. We will also help with wardrobe selection and posing to insure your photos are beautiful heirlooms that you will treasure.