Fall is one of the best seasons to have a wedding. The air's slight chill makes for crisp, pleasant evenings, while the changing leaves provide a perfect backdrop for your wedding pictures. The best part about a Fall 2021 wedding, however, is choosing an opulent color palette that compliments the season's rich textures and unmatched elegance. For a gorgeous fall wedding that doesn't look overdone, try one of these incredibly chic wedding color palettes, which are perfect for any upcoming 2021 autumn wedding.

Fall Wedding Colors #1: Dusty Rose, Pumpkin, & Mustard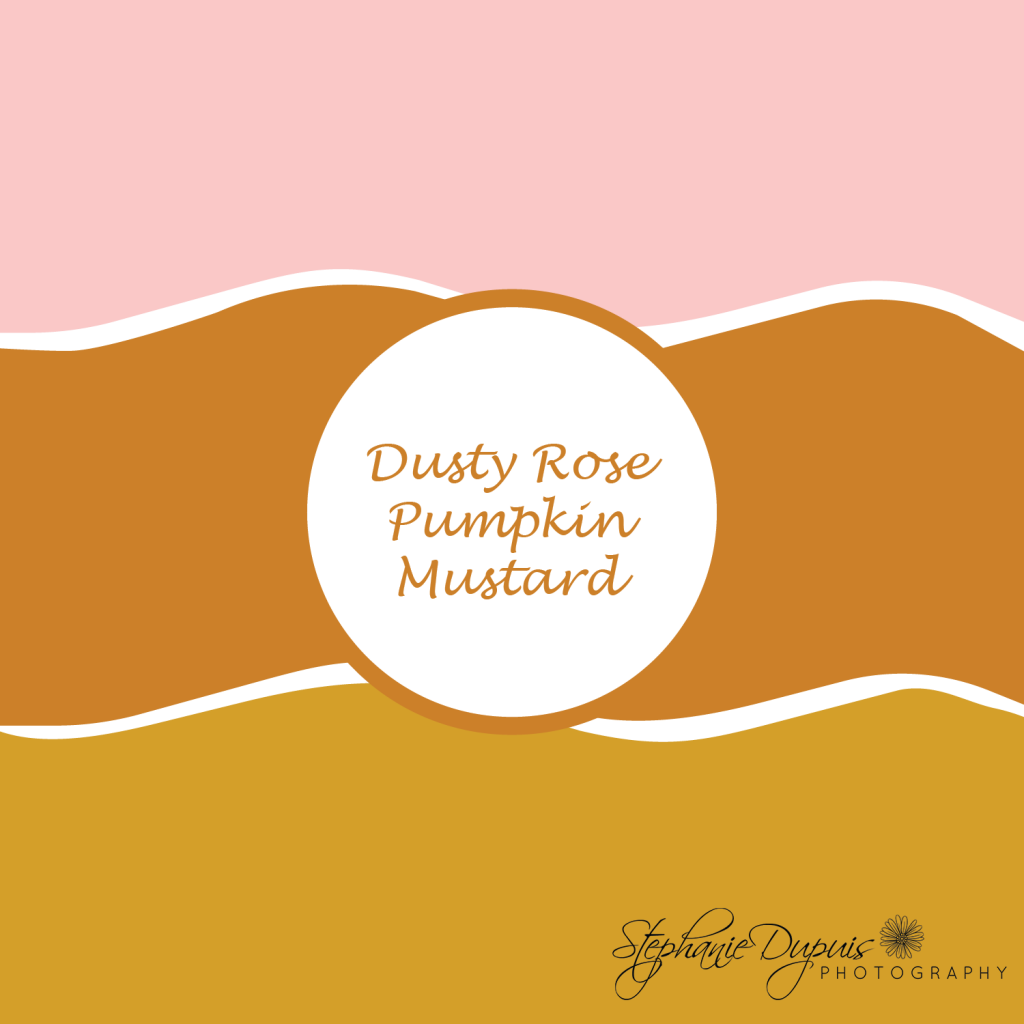 Why It Works –
All of the colors of an autumn sunset are present within this gorgeous wedding color palette. This season, Dusty Rose takes the place of Marsala and Blush, which teeter on the edge of looking overdone. This dusty hue is a feminine color that maintains a hint of regality, ensuring your décor will look feminine and romantic without looking saccharine. Similarly, on-trend tones of Pumpkin Orange & Mustard Yellow will hint at the color of changing leaves without being too literal. This palette is an updated take on classic Fall wedding colors.
Where & How – Dusty Rose combines well with other muted tones within your floral arrangements, while dusty pink velvet accents throughout your wedding and reception will give it a Pinterest-worthy look everyone will envy. Dusty Rose bridesmaid dresses are a safe bet, however dressing your bridal party in Mustard will give it a fashion-forward Fall look that is flattering, unexpected, and right on-trend. The color Pumpkin can easily overwhelm, so use an editor's eye when it comes to your décor. Stick with natural elements, like real pumpkins, to ensure this color never appears too glaring or over the top.
Accent it With – Earthy colors all flawlessly fit within this stylish palette. We suggest dressing your groomsmen in brown or grey tweed jackets with khaki pants to perfectly compliment the sartorial look of your bridesmaids. Touches of leather are also welcome – opt for raw leather cording instead of ribbons for a look that is both edgy and rustic all at once.

Fall Wedding Colors #2: Oxblood, Plum, & Gold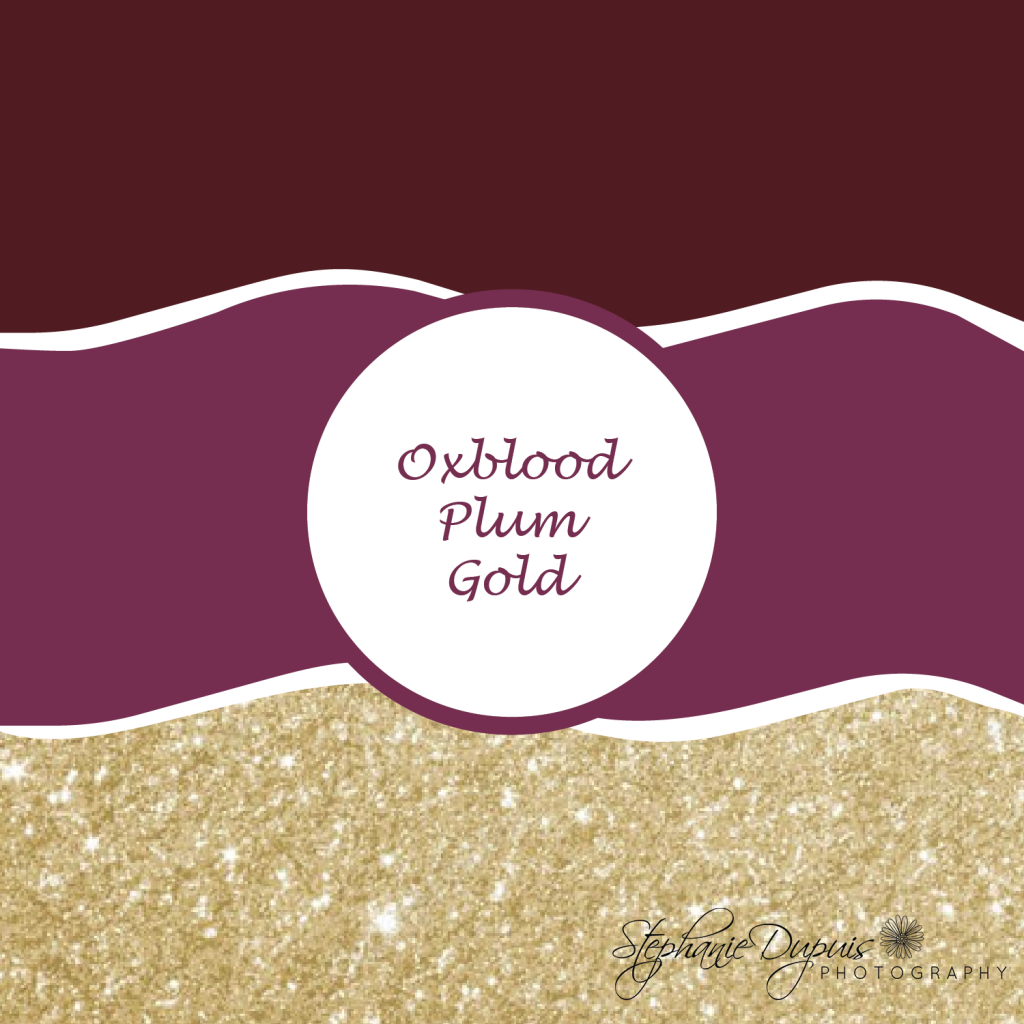 Why It Works –
Every Fall 2021 wedding will instantly look rich and opulent when done in this deep, moody palette. Plum is a rich jewel tone with a hint of mystery, which is perfectly complimented by Oxblood – a deep, dark shade of burgundy that is nothing short of glamorous. A Golden sheen will perfectly contrast with these seriously sleek colors, giving your wedding a regal look that is sure to be awe-inspiring.
Where & How – Interchange Oxblood and Plum throughout your décor, including on your tablescapes and invitations. While both of these are heavy, dark colors, they complement each other just enough to look stunning side-by-side. Embossed gold lettering and shimmering golden candle holders are also a must. Gold will reflect the light and give your wedding a cozy Fall glow. When it comes to your floral arrangements, using only dark flowers can look borderline gothic. Balance out deep red and purple roses with tons of greenery and touches of baby's breath for a look that is rich and romantic.

Fall Wedding Colors #3: Taupe, Grey, & Sage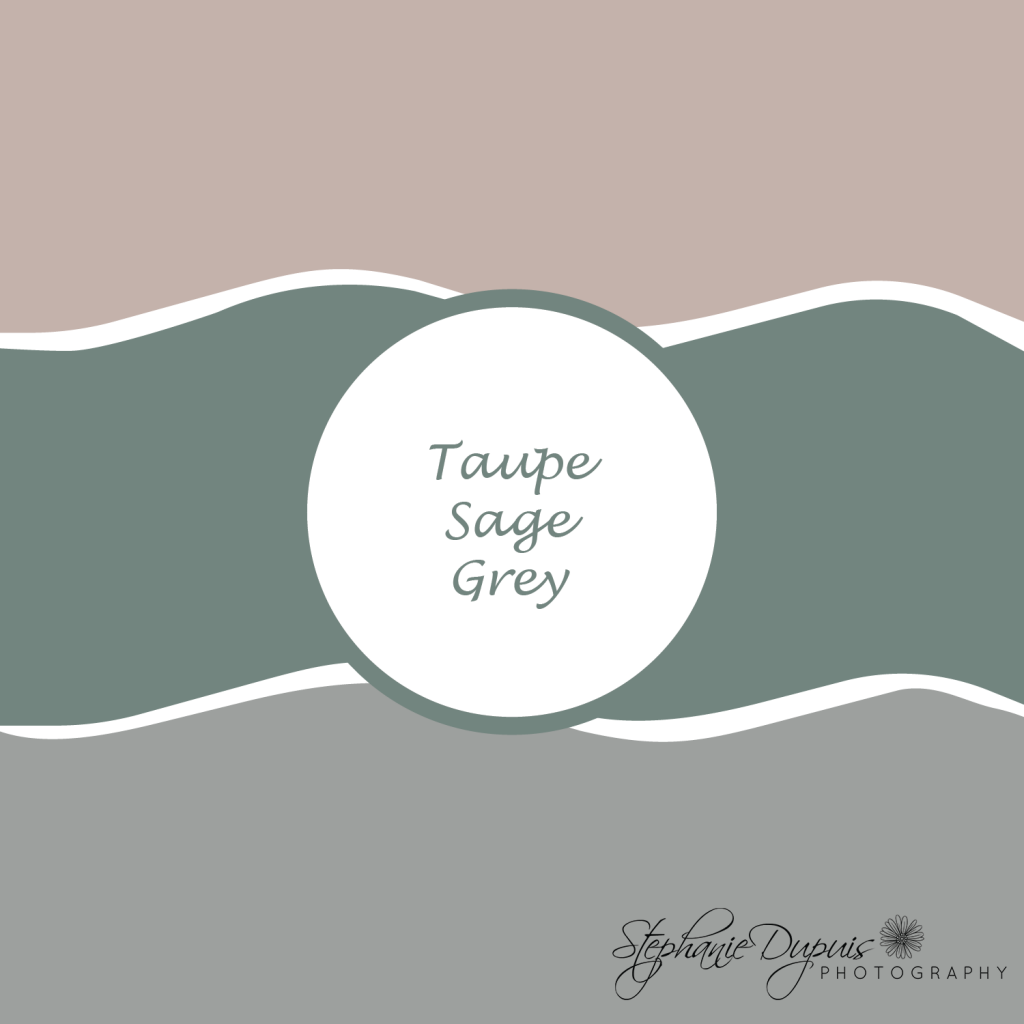 Why It Works –
The "Neutral & Greenery" trend will look fresh and unfamiliar when you deepen the colors to create this understated Fall wedding palette. Dusty neutrals like Taupe and Grey have a light feel that doesn't feel out of place in the chill of the autumn air. Balance these colors with pops of Sage, which will look bright and vibrant in comparison, but will never be too loud or bold.
Where & How – Dress your bridesmaids in light Sage bridesmaids dresses and accent their looks with bouquets full of ivory flowers and greenery, all tied together with Taupe ribbons. Give your tables a sleek and modern monochromatic look by sticking only to neutral tones and pops of Ivory. Although this wedding palette lacks a lot of color, the result will be an upscale fall wedding no one will soon forget.
Accent it With – Because there is nothing "over-the-top" about this color combination, add a little sparkle for an easy way to make your décor look wedding ready. Wear a shimmering ivory bridal gown, print your menus on lustrous paper, and add a hint of sparkle to any aspect of your décor for a look that no one has seen before.
---
About Stephanie Dupuis Photography
Hi! Stephanie Dupuis Photography is a two person team that specializes in photographing families and children. In addition, Stephanie and Bill also love maternity shoots, newborn portraits and baby photos as well as high school seniors. Stephanie Dupuis Photography works in Lancaster, Littleton, Whitefield, Dalton, Groveton, Berlin, Gorham and surrounding towns. Please inquire for travel rates to other areas.