Based in Franconia, New Hampshire, Chef Joe's is a full-service wedding catering service. Chef Joe's specializes in helping couples create a wedding that is nothing short of unforgettable. While there are many factors that go into creating a picture-perfect wedding, treating your guests to plenty of food and drink is of the utmost importance. Working with an experienced team of experts – like the ones at Chef Joe's Catering – is a sure-fire way to ensure that your day is as festive as it is fabulous.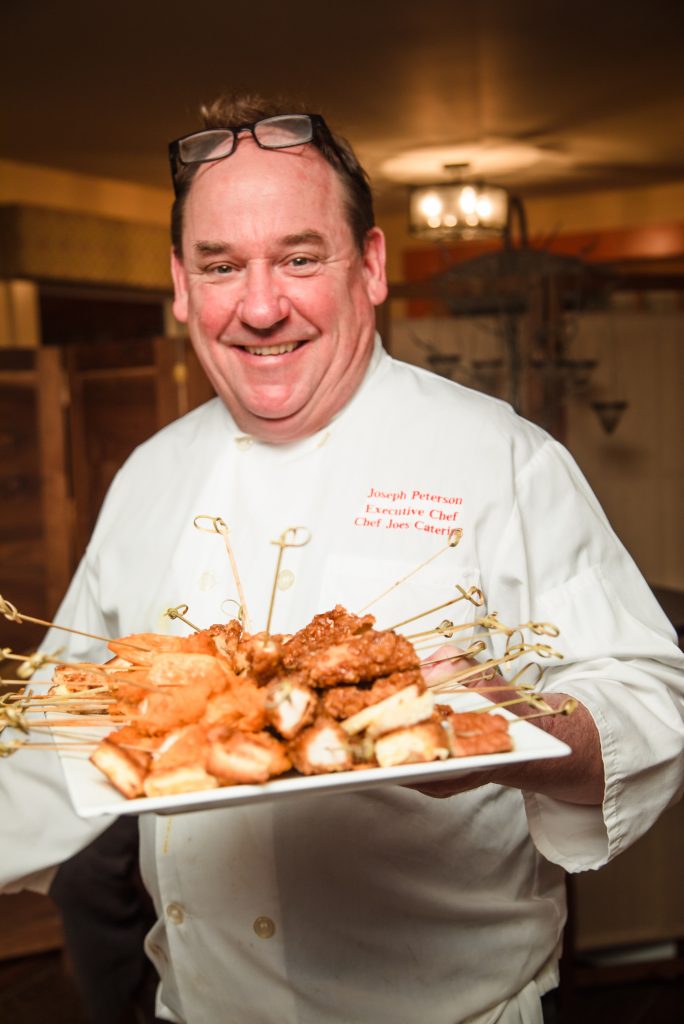 Overview
With a 30-year background in the restaurant industry, Chef Joe began his catering business nearly 12 years ago and has been going full steam ever since. Chef Joe's Catering primarily focuses on weddings and other largescale special events. Doing this means they are well versed in what goes into creating an exceptional experience for every single guest on your invite list.
Rather than having couples choose a cookie cutter wedding menu, the team at Chef Joe's Catering sits down with each couple to learn more about their individual preferences and tastes. They are more than willing to re-create dishes that have sentimental meaning, whether it be your great-grandmother's time-honored recipe or the dessert you ate on the night of your engagement. This team of professionals believes that – when done correctly – the food served at your wedding reception can and should add another layer of meaning to your big day.
Catering Services
With years of experience catering weddings and special events, Chef Joe's Catering is able to accommodate wedding receptions that range from intimate backyard gatherings to large, upscale events with more than 300 guests in attendance. After an initial meeting, a customized menu is created based upon the couple's preferences and budget. A tasting is then scheduled upon booking so that the wedding menu is fine-tuned before being finalized.
Being an on-site catering service, everything served is freshly cooked at your reception site. With a fleet of trucks that feature refrigeration, convection ovens, grills, and holding ovens, every plate of food they serve has been freshly cooked (rather than re-heated) immediately before it is placed in front of your guests. This results in tasty dishes that will far surpass the quality of traditional, predictable "wedding food" that everyone has experienced at least once in their life.
In addition to wedding catering, Chef Joe's can also coordinate your bar service so that everything is taken care of by the same team. This also ensures that your cocktail hour complements and flows beautifully with the dinner service at your wedding reception. Having one team in charge of both aspects is incredibly valuable, as it ensures everyone is on the same page in regard to the overall timing of your wedding day festivities.
More than Weddings…
The team at Chef Joe's can also assist with coordination, rentals, day-of setup, and wedding menu design. Among their many services, they feature an on-staff wedding coordinator who can work with brides to ensure virtually every important detail of the day looks picture-perfect and runs smoothly. Available upon request, this service can be coordinated directly with the team at Chef Joe's at the time of your initial consultation.
In addition to creating an amazing wedding day meal, Chef Joe's also accommodates rehearsal dinners, bridal brunches and more out of their hub at the Franconia Village House. Featuring both an intimate indoor dining area and an outdoor tented patio space, they can accommodate gatherings and special events of up to 150 people.
Food Trends & Tips
Because of their extensive experience catering wedding receptions, Chef Joe's is incredibly familiar with current wedding trends and tips that ensure brides have a relaxed and wonderful wedding day. With weddings becoming increasingly relaxed, more and more couples are opting for buffet-style meals rather than traditional plated dinners. Food stations, robatayaki bars, and raw bars are becoming more popular, as they allow guests to mingle and interact with each other during the dinner service. Buffet style dinners also generally make it much easier to accommodate guests with food allergies or dietary restrictions.
To really "wow" your wedding guests, the team at Chef Joe's recommends placing as much of an emphasis on your cocktail hour as possible. Although it is a part of the wedding that most brides, grooms, and bridal parties don't get to enjoy, the interim time between the ceremony and dinner can truly define a guest's wedding experience. They have plenty of ideas when it comes to creating a cocktail hour that will properly set the tone for the rest of your wedding reception.
Book Chef Joe's Catering for Your Big Day
When you book an experienced catering service for your wedding reception, you receive far more than just delicious food. Caterers are trained to work together with your venue and other vendors to ensure that your day runs on-time and without issue. The team at Chef Joe's Catering is familiar with everything that goes into making weddings simply incredible and are committed to making every bride and groom's big day as effortless as it is delicious.
While Chef Joe's typically caters Vermont and New Hampshire weddings, a travel fee is available for weddings that take place outside of their coverage area. To learn more about their wedding menus, catering services, and more, visit https://www.chefjoescatering.com or contact them directly at 603-823-8589.
---
About Stephanie Dupuis Photography
Hi! Stephanie Dupuis Photography is a two person team that specializes in photographing families and children. In addition, Stephanie and Bill also love maternity shoots, newborn portraits and baby photos as well as high school seniors. Stephanie Dupuis Photography works in Lancaster, Littleton, Whitefield, Dalton, Groveton, Berlin, Gorham and surrounding towns. Please inquire for travel rates to other areas.