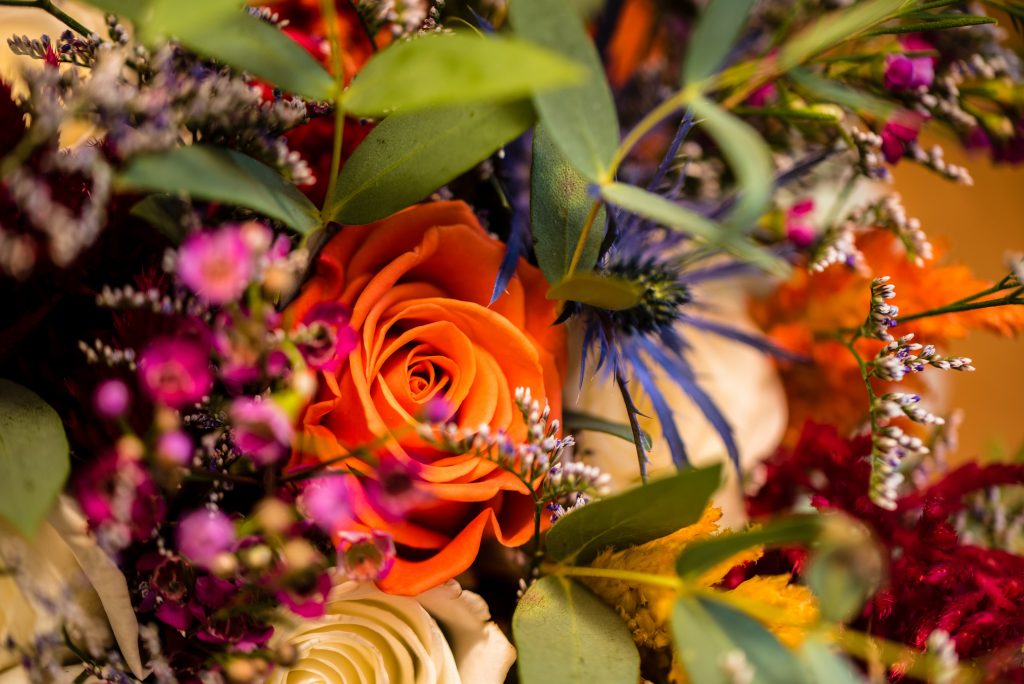 Based in Littleton, New Hampshire, Emily Herzig is an experienced Floral Designer, Wedding Stylist, and the namesake behind Emily Herzig Floral Studio. With years of experience in floral design and an impressive portfolio of work, it's safe to say that Emily knows a thing or two about creating beautiful bouquets, wedding centerpieces, corsages, and more.
If you are in the market for a florist who is passionate about her work, committed to using local products and has a serious eye for style, read on to learn more about Emily and how her Floral Studio operates.
Emily's Background
With two garden enthusiasts for parents, it's safe to say that owning a floral studio was – at least somewhat – Emily's fate. Unsurprisingly, one of her very first childhood jobs was at an organic nursery in Franconia, NH. While earning her Bachelors of Science in Social Work and Family Studies at UNH, she also got an education in flower design thanks to her part-time job at the campus flower shop. This highly educational experience would serve her well, and after graduation, she went on to work at a little floral shop in Portsmouth on weekends in addition to working full time at her career.
After moving back to the area with her husband, Emily found that despite working a fulfilling full-time job as a Social Worker, there was a huge part of her that missed the floral industry. Thanks to a little encouragement from her husband, she purchased a $200 flower cooler and the rest is history. At just 23 years old, Emily quit her job and dove head first into her life's calling.
Now, 15 years later, Emily Herzig Floral Studio operates out a private studio and creates breathtaking floral designs for weddings, styled shoots, and various print publications. With a commitment to customer service and an experienced eye for design, one look at her portfolio of floral designs makes one thing very apparent: flowers are Emily's passion.
An Emphasis on Local Products
Every week during wedding season (approximately May – October), Emily takes a trip to the New England Flower Exchange in Boston to handpick fresh stems for her clients. This allows her to access locally grown flowers as well as those grown in Holland, South America, and other corners of the globe. Being surrounded by an endless variety of unique blooms keeps her constantly inspired and continually educated about the world of floral design.
With that said, Emily is also fascinated by the idea of using locally grown stems within her creations. More and more, brides around the country are choosing to use native or locally grown flowers in their wedding arrangements. Not only does this choice allow brides to support their local community, it also positively impacts the environment in a variety of ways. Inspired by this idea, Emily has even started a cut-and-grow garden so that she can one day be a part of the process (literally) from the ground up.
Choosing Emily Herzig Floral Design for your Wedding Flowers
The cornerstone of Emily's business is undoubtedly weddings. Her gorgeous arrangements and designs have been featured in New Hampshire Bride Magazine among other publications. For brides looking to work with a committed New Hampshire florist, she proves to be an excellent choice.
Delivery Area
Emily has created arrangements for weddings that have spanned the entirety of New England. Her basic delivery area extends from Bar Harbor, Maine to Boston, Massachusetts and includes most areas in Vermont and New Hampshire.
Cost & Budget
Emily requires a minimum of $3,500 for her design work. For a specific quote, please contact her directly.
Volume
To ensure that every wedding receives the proper personal focus, Emily attempts to only book one wedding per weekend. This allows her team to give each client their full attention in the days and weeks before the wedding day.
The Planning Process
Emily considers educating her clients a huge part of her purpose as a florist. Most brides, grooms, and their families come for an initial consultation and are unsure about different types of flowers, what is in season, and how the process works. Thanks to her vast experience in the industry, Emily is happy to share her knowledge so that everyone is on the same page from day one.
To book her services, an initial consultation is recommended. This allows everyone to sit down and have an open and honest conversation about the couple's budget, wedding colors, likes, dislikes, and the overall vision for their wedding flowers. After the formal booking process and deposit, Emily and her clients work together to create a cohesive vision for their wedding flowers, from the bridal bouquet all the way to the corsages. Emily then creates a personalized visual mood board that's specific for each of her clients and their desired color palette. Then, she creates a detailed outline that lists and describes the arrangements she's going to provide on the wedding day.
Want to learn more about Emily Herzig Floral Studio?
Check out their website at www.ehfloral.com
Tell Emily that Stephanie and Bill sent you!
Approximately four to six weeks out from the wedding day, Emily sits down with the couple for a final meeting – preferably at the wedding venue – to show them a sample arrangement and get their final approval. From there, the final design work is done in the days preceding the wedding. Emily visits the Flower Exchange and local farms to collect her stems before creating the wedding centerpieces, bouquets, and any other requested elements. The flowers are then typically delivered to the venue on the wedding day and cleaned up the following day.
After the Wedding
One of the best aspects of Emily's process takes place after the wedding has ended. She takes any leftover wedding flowers or arrangements to nursing homes or hospice centers so that they can brighten up the lives of those who need it most. If you are interested in donating your wedding flowers after your wedding has ended, be sure to mention it during the planning process.

Common Misconceptions
We asked Emily what brides should understand before working with a florist. There were three points that she said frequently come up when working with brides and grooms.
#1 – Cost
Misconception: Flowers can be costly. According to Emily, magazines often show over-the-top arrangements in their styled shoots without giving brides any idea of their actual cost, which can lead to unrealistic expectations during the planning process.
Solution: Be realistic with your budget. This will allow your florist to work with you and create floral displays you'll love but that don't break the bank.
#2 – DIY Floral Design
Misconception: Emily told us that many times, Pinterest can make DIY floral projects seem much easier than they actually are. She cautions people who are considering creating their own centerpieces that they might be left with a finished product that doesn't meet their high expectations.
Solution: Emily recommends that DIY brides do a full-fledged trial run well before the wedding day. If the bouquet turns out incredible, you'll be more prepared as the wedding day nears. If it doesn't live up to your expectations, however, you still have plenty of time to contact a professional florist.
#3 – Choosing Flowers Out of Season
Misconception: Many brides have their heart set on a specific flower, only to find out that it is out of season when their wedding actually occurs. While specific flowers grown in different climates can be shipped in for out of season weddings, this process is expensive and – at times – unreliable.
Solution: If there is a specific flower that is a must-have, find out when that flower is in season before setting your wedding day. Or, Emily recommends working together with your florist to figure out which flowers are realistically available and going from there.
---
About Stephanie Dupuis Photography
Hi! Stephanie Dupuis Photography is a two person team that specializes in photographing families and children. In addition, Stephanie and Bill also love maternity shoots, newborn portraits and baby photos as well as high school seniors. Stephanie Dupuis Photography works in Lancaster, Littleton, Whitefield, Dalton, Groveton, Berlin, Gorham and surrounding towns. Please inquire for travel rates to other areas.