Your engagement photos are often the very first of many professional photos that couples take together. They commemorate an incredibly exciting chapter in your journey as a couple and allow you to look back on the exciting time you spent together before you officially became husband and wife. Once your engagement photos are ready, however, it can be hard to know exactly what to do with them! Printed photographs carry so much more significance than digital copies. We always encourage our couples to display their images in a prominent and eye-catching way so that they can forever be reminded of how their lifelong love story began.
Signature Guest Book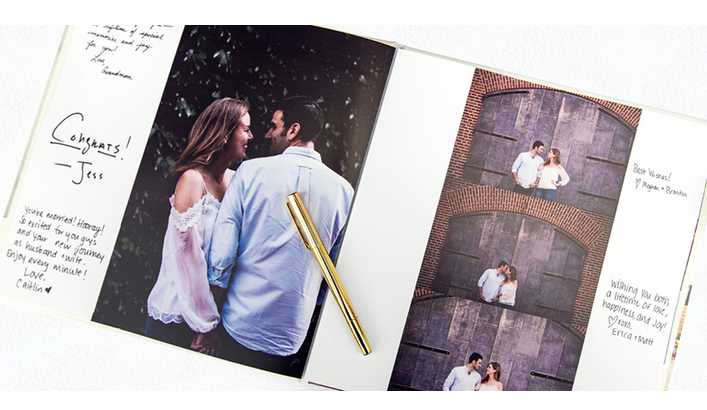 Image credit: Nations Photo Lab
With your wedding on the horizon, there are plenty of fun and unique ways to display your engagement photos at your ceremony or reception. Creating a personalized Signature Guest Book is an exceptional option. These beautiful bound books feature your engagement photos alongside special blank spaces where wedding guests can sign their names and leave a sentimental note. Not only does it give guests a fun way to browse your breathtaking engagement photos, it provides you with a veritable scrapbook to enjoy after your wedding day is over. A Signature Guest Book features vivid, clear photographs, is printed with special fade-resistant Archival inks, and has an impressive binding that includes luxurious leather covers and high-quality paper. Your photographer can also use their trained eye to create a layout that displays your images in an engaging way for your guests to enjoy.
Gallery Wall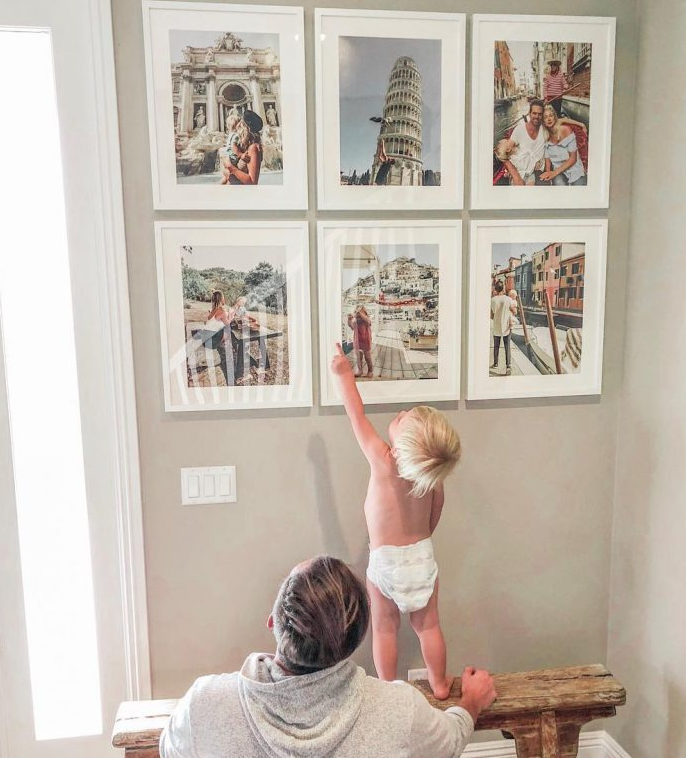 Image credit: Nations Photo Lab
A gallery wall is a fun way to show off a variety of photos in a unique and artistic way. Gallery walls are typically comprised of multiple frames and photographs that are arraigned to create an art gallery-inspired look within your own home. You can also choose canvas, acrylic, or metal photo display mediums for an updated take on a classic gallery wall.
Gallery walls provide an interesting and dynamic way to show off your engagement photos. Choose various poses and photo types to create a gorgeous, vibrant display. Or, add in photos of your family, friends, or important relationship milestones to truly celebrate the beauty of your love story. Ultimately, a gallery wall should tell a story through a series of cohesive images. If you are running short on inspiration, talk to your photographer or browse the internet for layout ideas.
Black & White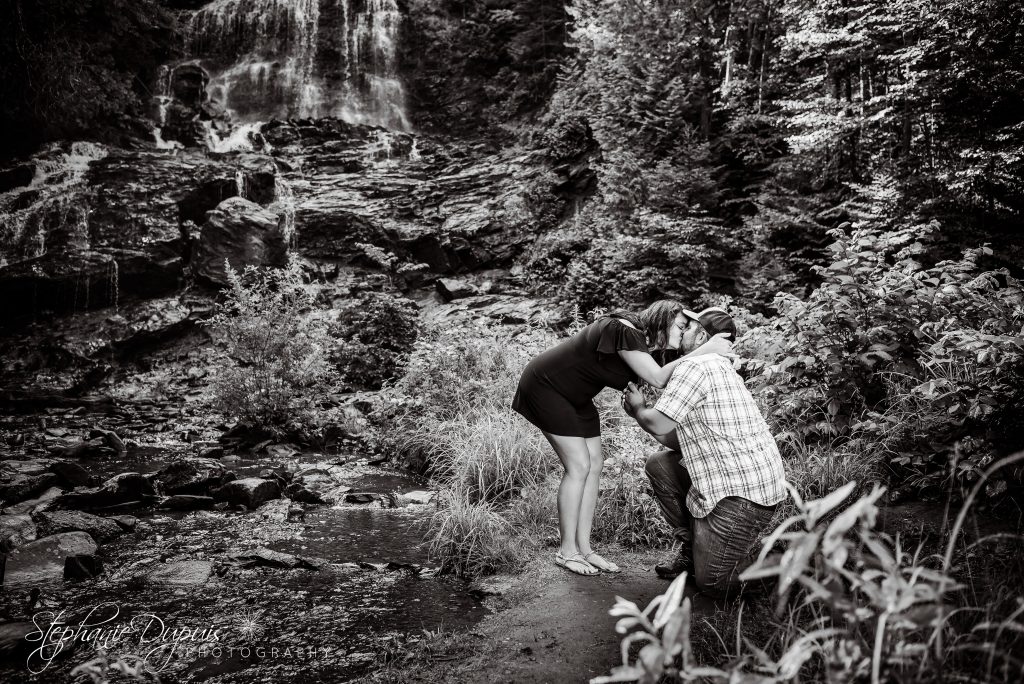 Black and white photography has an exquisite, timeless look. Your photographer will choose which images from your engagement session will look the most elegant in this colorway. While the color of any photo can be edited, professional photographers are trained to know which photos will look best in black and white. Once you have black and white prints of your favorite photos, arrange them in a series above your bed or mantle for a contemporary display of how your love story began. The calming grey tones are soothing and make for a tranquil interior space within your home.
Canvases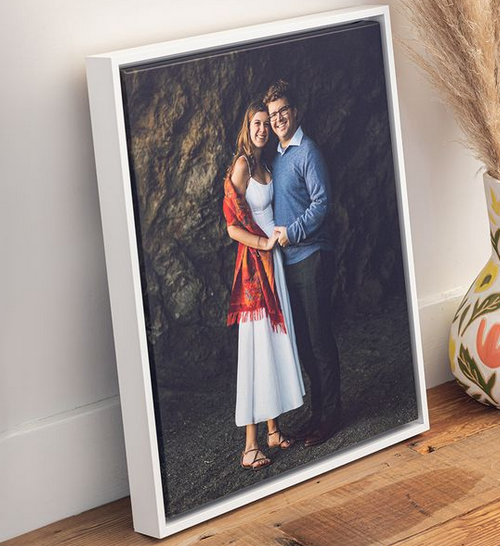 Image credit: Miller's Professional Imaging
Canvases are an increasingly popular way to display your favorite photographs, as this medium adds dimension and depth to your images. The three-dimensional look and elegant finish of a canvas imparts a distinct beauty to your favorite shots. Not to mention, the absence of a frame allows the eye to focus on the image itself, rather than any surrounding distractions. For a contemporary way to display your images on canvas, print three of your favorite images on three equal-sized canvases and hang them in a series. Another captivating way to display your photos is by stretching a single photo over multiple canvases.
Large Images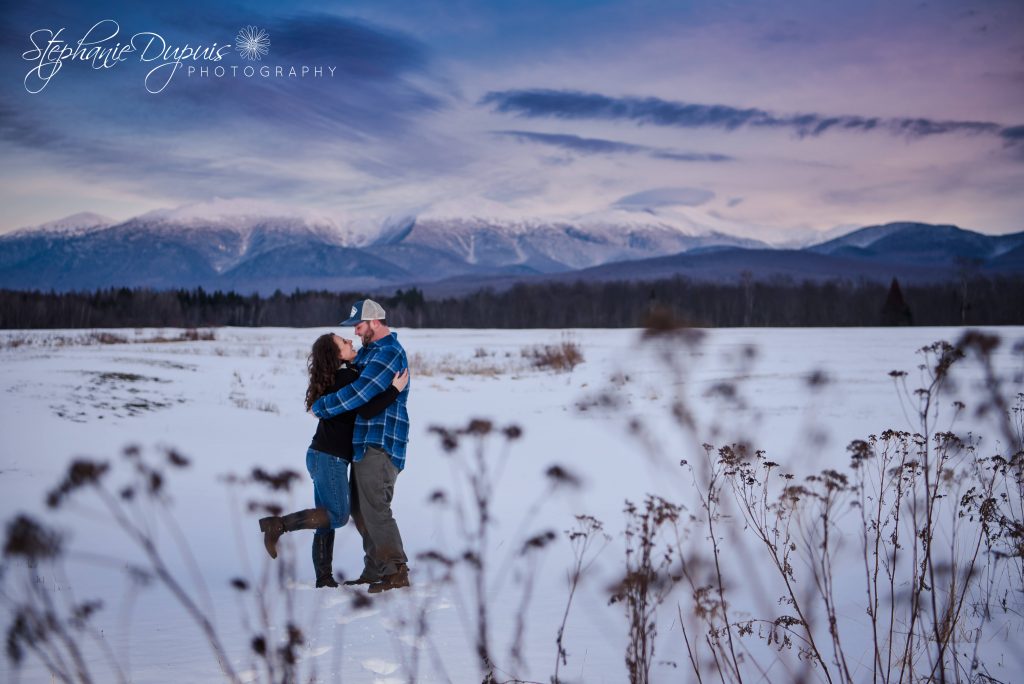 If the space within your home allows, add an extra-large photo to your walls for a truly eye-catching photo display. If you choose to display one of your engagement photos in this breathtaking way, be sure to speak with a professional photographer and have him or her print and process the photo. Not only will a professional know how to accurately color grade and retouch your chosen image, he or she will also be able to properly prepare an image to print at your chosen size. When every tiny detail is on display, you especially want to put your print in the hands of a professional. Extra-large images are also susceptible to fading or sun damage when put on display. A professional photographer will be able to print your image on special, high-quality papers and use archival inks to ensure your beautiful engagement photo looks flawless for generations to come. In addition, a professional photographer can also ensure that you choose an appropriately sized print for you living space. Their special software allows you to see exactly how certain sized prints will look on your walls so that you can choose the size that will best compliment your home décor.
Special Mediums
Just like canvases changed the way people displayed images within their homes, so too do a whole new generation of special mediums. For a unique and modern way to show off your engagement photos, consider having them printed on metal or acrylic. These sleek, sophisticated surfaces allow your photos to truly come to life and ensure that everyone who enters your home will take a second look at your photo displays.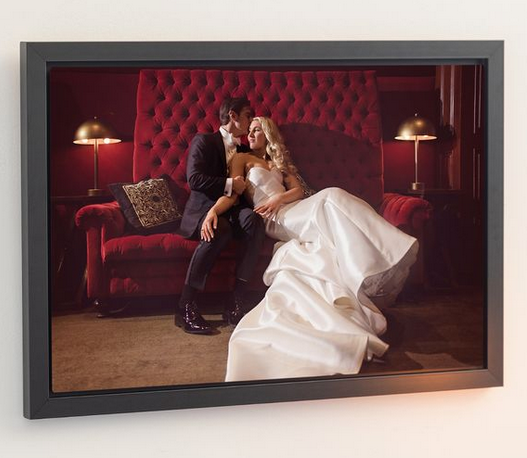 Image credit: Miller's Professional Imaging
Metal prints have a stylish, high-gloss look that makes for a striking and vivid display, especially in spaces with a contemporary, industrial design scheme. Acrylic prints are another refreshing and unique way to show off your engagement photos. They effortlessly enhance the look of every image and make the colors and textures come to life in a way that other mediums simply cannot. Want to be the first to know about up-and-coming photo display options? Talk to your photographer! Their experience in the industry means that they are the first to know about the newest products and techniques available. Did you know we believe so strongly in the value of print that we offer a lifetime warranty on all of our printed products? For example, if a canvas print gets damaged you can simply return what remains and we will replace it at no charge. Want to learn more about our warranty and our services? We would love to get acquainted with you over the phone and learn more about your photography needs. Take a look at our Instagram for more engagement photo inspiration!
---
About Stephanie Dupuis Photography
Hi! Stephanie Dupuis Photography is a two person team that specializes in photographing families and children. In addition, Stephanie and Bill also love maternity shoots, newborn portraits and baby photos as well as high school seniors. Stephanie Dupuis Photography works in Lancaster, Littleton, Whitefield, Dalton, Groveton, Berlin, Gorham and surrounding towns. Please inquire for travel rates to other areas.